What could be more festive than Mexican cooking? While our American neighbours just celebrated Cinco de Mayo, nice weather is coming our way making it the perfect time to discover Mexican food and feast with family and friends.
Every May, Cinco de Mayo marks the victory of the Mexican army over France in the Battle of Puebla on May 5, 1862. Although only a minor celebration in Mexico, it's a national event in the US because it pays homage to the Mexican-American identity and is a celebration of freedom and democracy. There are parades, dances, music and Mexican food takes centre stage.
In order to give you the Cinco de Mayo experience, we'd like to present an aspect of festive cooking that is Mexican food. It's the perfect occasion for you to discover typical Mexican dishes that will meet all your expectations. See how well you know burritos, tacos, fajitas, enchiladas and quesadillas.
Tacos, burritos and fajitas – what's the difference?
Tacos, burritos, fajitas, enchiladas or quesadillas – do you know the difference? The fact that many popular Mexican dishes are prepared with tortillas can make it hard to tell. We've come to the rescue with an explanation of the characteristics of three of them.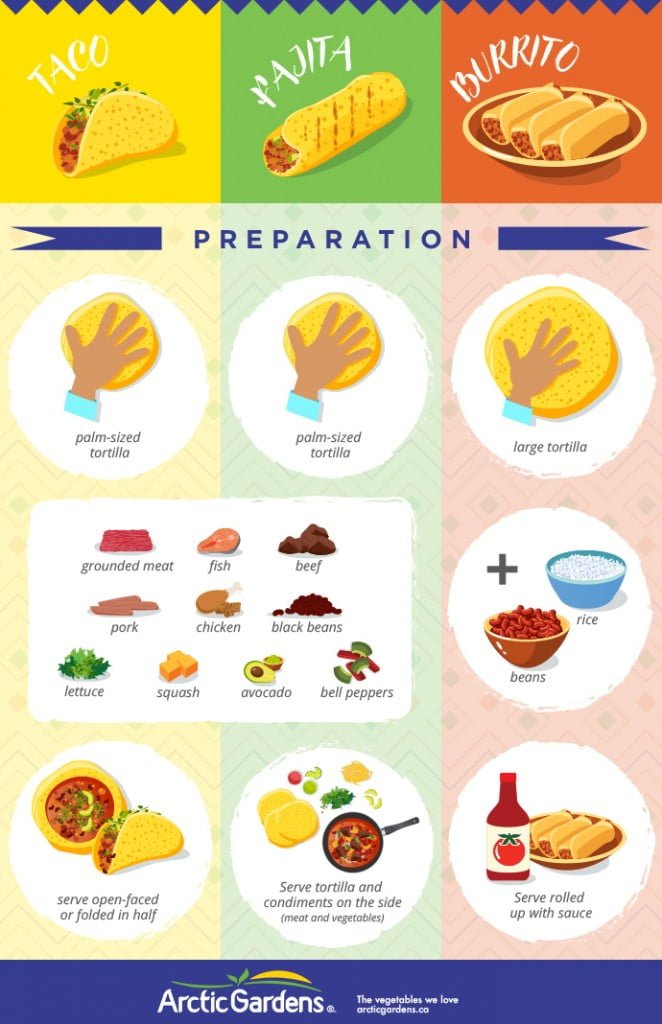 Taco or burrito?
The main difference between tacos and burritos is the type of tortilla. A taco comes in a small, folded tortilla whereas a burrito is served in a large, rolled tortilla. Burritos can be stuffed with rice which is rare for a taco. They can also have a lot of sauce whereas tacos normally have small amounts of more original sauces.
Fajita or burrito?
What distinguishes the burrito from the fajita is that fajitas have meat and grilled veggies, as well as toppings which are served on the side. Also, because fajitas are a type of tacos, small tortillas are used instead of big ones.
It wasn't that long ago when burritos and fajitas were the favoured Mexican dishes. Now the trend is tacos and we're thrilled. Their versatility will surprise you.
All kinds of tacos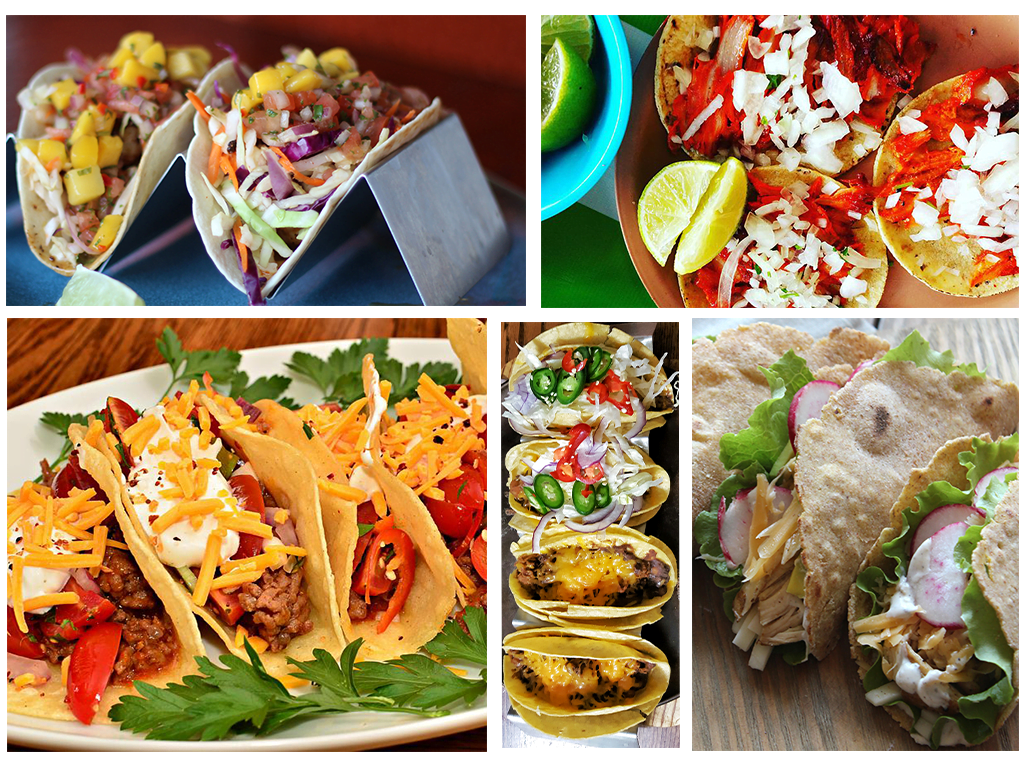 Tacos are made with small corn or wheat tortillas, opened face or folded in two. The original Mexican recipe is prepared with a soft tortilla, but the North American version that uses a hard shell is well known. Tacos can contain various types of meat or protein accompanied with grilled veggies. The whole thing can be garnished with a variety of toppings: lettuce, tomato, onion, seasoning, cheese, salsa, sauce, etc. You can add anything you want to tacos, so the options are endless. What you put in them also depends on what you have on hand.
Beef tacos
Beef tacos are probably the best known and often the first thing we have in mind when we cook Mexican food. Just cook some ground beef, grill some veggies, chop some lettuce and serve in tortillas with whatever sauce you'd like. Try these recipes and you'll see that delicious doesn't have to be complicated.
Beef Black Beans and Corn Tacos
Slow-cooker Shredded Beef Tacos
Prefer pork? Our  chili con carne recipe is the perfect topping for your tacos.
Chicken tacos
If you don't have beef or prefer not to consume it or just want a little variety, make tacos with chicken!
Fish tacos
Maybe we don't think about it often, but fish is another great alternative for tacos.
Here are a few recipe examples that you're sure to like:
Shrimp Tacos with Charred Con Salsa
You can also get inspiration from our friends in Western Canada by checking out this tuna taco recipe.
Tacos al pastor
Becoming more and more popular, this taco is made of pork, pineapple, onions and cilantro. The meat for tacos al pastor is cooked vertically on a spit. Brought to Mexico by Lebanese immigrants, this technique is used in restaurants and Mexican food trucks today.
Feel like making tacos al pastor at home? Try this recipe!

Vegetarian tacos: more and more options
Are you a vegetarian or want to be one? Don't worry, there are a ton of options available for trying meatless tacos. Tofu, tempeh, legumes and veggies are all perfect for making a good vegetarian taco.
Tofu tacos
Crispy Coconut Tofu Tacos with Avocado Sauce
Tofu Tacos with Chili-lime Slaw
Cripsy Tofu Tacos with Tomato-almond Salsa
Vegan Teriyaki Tofu Tacos with Roasted Pineapple Salsa
Tempeh tacos
A plant protein now available in grocery, tempeh can also be used for topping tacos. Try this recipe and you'll see how easy it is to cook veggie.
For more information on this product and how to use it, read our Discovering tempeh article.
Other veggie tacos
There are many other vegetarian taco recipes in addition to tofu and tempeh based ones. By using the right veggies with or without legumes, you can easily make tacos both protein-rich and delicious.
Here are a few recipes for inspiration:
Avocado, Roasted Squash and Black Beans Tacos
Roasted Cauliflower and Lentils Tacos
Other easy Mexican recipes
Although tacos are versatile and practical, there are other choices to spice up weekday meals with Mexican flavours.
With tortillas
Tortillas used for tacos or the bigger ones can easily be used for other Mexican-inspired recipes. There are lots of quesadilla and flauta recipes that are simple and quick, so don't be afraid to get out of the routine.  quesadillas et de flautas
Guacamole: a delicious addition to tacos
This dip made with avocado, tomatoes, fresh chilies and salt didn't just come about recently. Aztecs created it more than 700 years ago. Called ­"ahuacamolli" at the time, guacamole is still popular in Mexican dishes nowadays and there are tons of recipes around. Here are just a few:
On the side
Some recipes go great with tacos and other Mexican dishes. Just try them!
You'll also find more recipes on other cooking blogs:
Mexican tofu scramble with tomatillo salsa
Make it yourself!
Homemade tortillas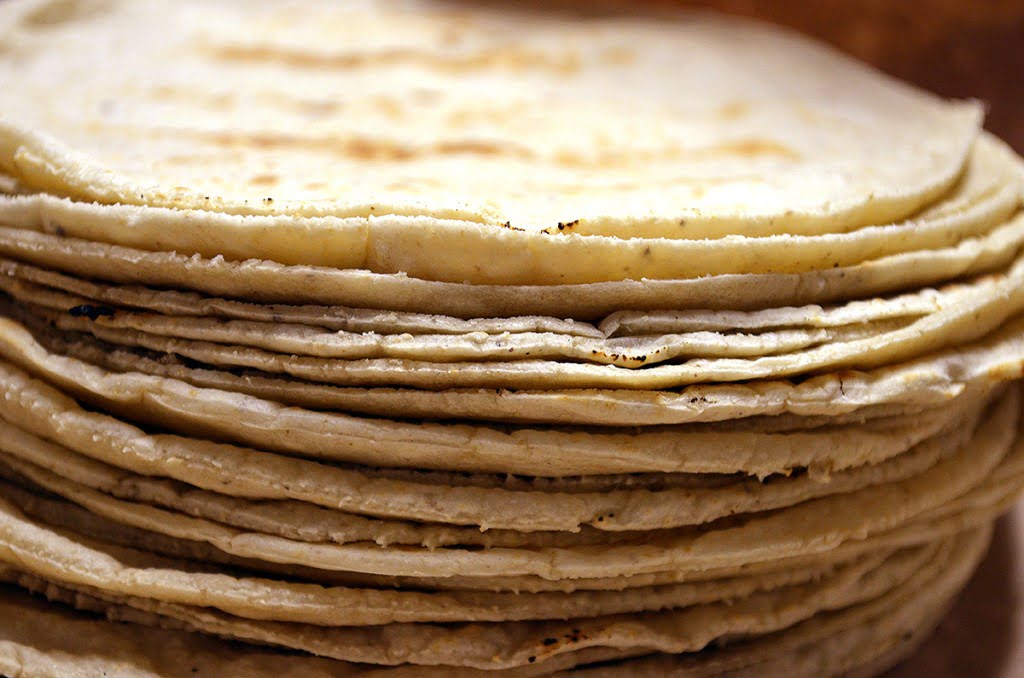 Instead of buying tortillas at the grocery store, why not make them yourself at home? This way, you'll know exactly what's in them – and you can personalize the recipe. Check out this recipe to learn how.
Homemade taco spices
Find spice mixes too salty, not spicy enough or just don't like them? The solution: make your own homemade taco spice mix! Add it to meat or tomato sauce when you're cooking.
Homemade taco sauce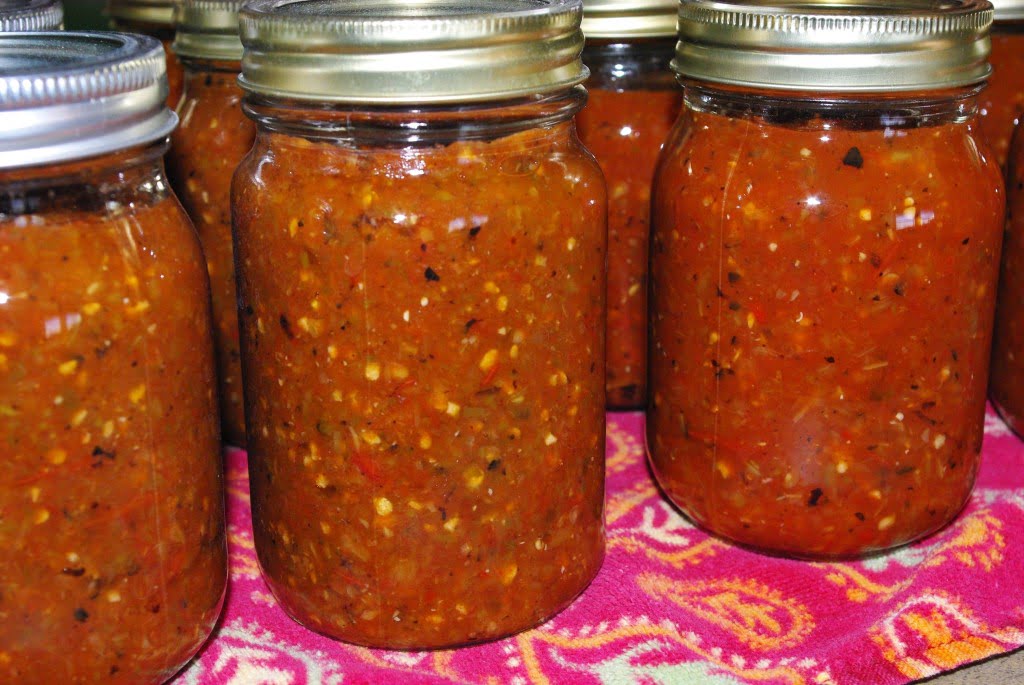 Taco sauces are made with veggies or other simple ingredients. Here are a few recipes to try the next time you cook Mexican food:
You're now ready to make delicious tacos for the month of May. Feel free to share your comments and Mexican recipes with us!