A Thousand and One Soups
Now that the cooler weather has definitely arrived, what better way to ward off the cold than eating everyone's favourite comfort food – soup, a popular choice at this time of year? Previously served as an appetizer, it is now taking centre stage on the modern family's dinner table. And it has come a long way since the broth served in the Middle Ages: these days, it comes in a vast variety of flavours and textures from almost every food culture. Meal soups, cold soups, sweet soups – there are so many different kinds, a person could live on soup for a year and never get tired of it! Here's a guide to get you started on your culinary voyage of discovery.
Making a great homemade soup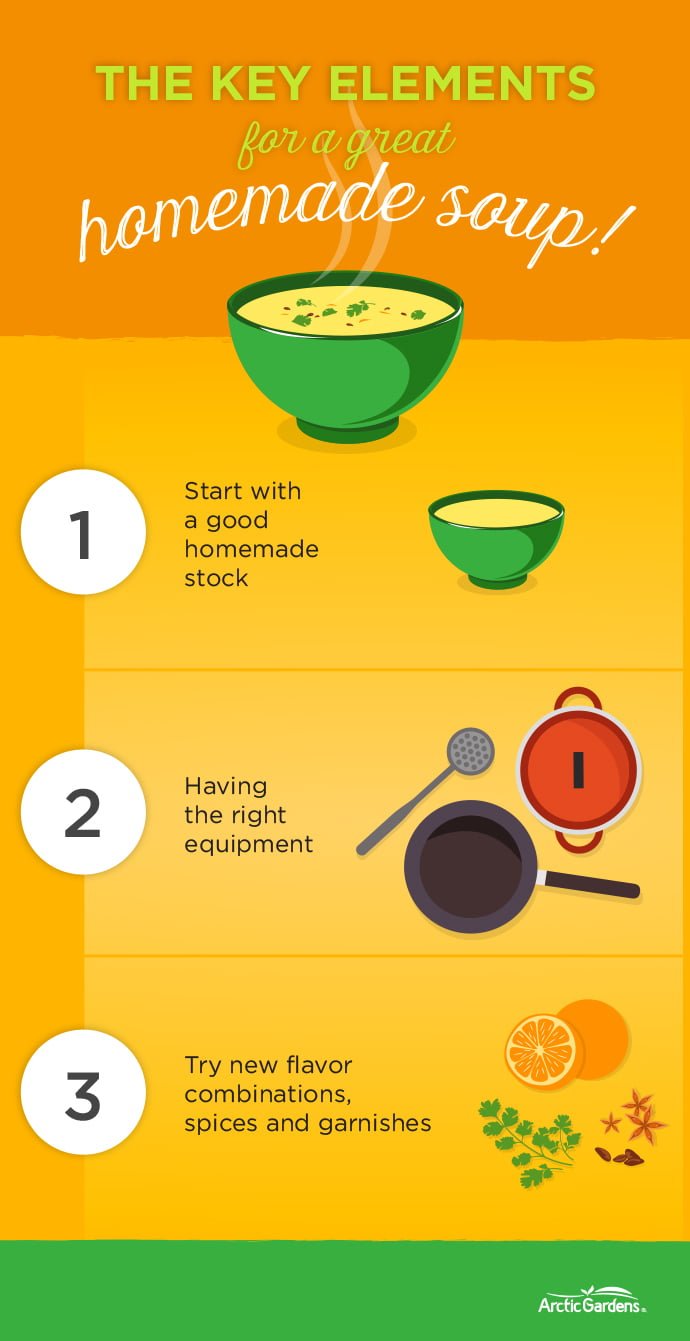 Making homemade soup is easy. However, to make a great homemade soup, there are a few basics you need to know. One of them is: start with a good homemade stock.
The secret ingredient
Behind every tasty soup is a good soup base, or stock. It's the main ingredient, the one that gives it character and most of its flavour. Most people have heard of beef, chicken and vegetable stock; duck or ham stocks are less well-known varieties that also make for a tasty soup.
Here are 4 great tips for making your own stock:
Store meat and vegetable scraps in the freezer: when it's time to make a stock, just put them in a saucepan and add cold water to cover. Storing food scraps reduces the amount of food waste and gives your soup an original flavour profile.
Simmer over low heat for many hours: the longer you simmer the stock, the more flavour is released by the ingredients. In fact, experts recommend simmering stock for anywhere from 4 to 12 hours over low heat. This allows the fat to collect on top of the stock, making it easier to skim off afterwards.
Skim the fat: there are two ways to remove the layer of fat on top of the stock. First, you can chill the broth in the refrigerator. As it cools, the fat hardens on the surface; use a slotted spoon to remove the hardened fat and you will have a nice, clear stock. If you can't wait for the broth to cool, add a few ice cubes to the pot. The fat will stick to the ice cubes, which can easily be removed with a slotted spoon.
Keep it frozen: once the broth is ready to use, you can keep it for up to six months in the freezer. A handy tip is to freeze it in an ice cube tray: this gives you a number of small cubes that you can add to your recipes as needed.
To follow these tips and make your own soup, you'll need to have some equipment on hand.
Having the right equipment makes all the difference
To make the stock, you'll need a pot large enough to hold all the ingredients, a strainer (or sieve) to separate the solids from the liquids, and a slotted spoon to remove the fat.
To make a delicious homemade soup, you will need a brush (to clean the vegetables without using any water), a peeler, a knife, a cutting board, a pressure cooker (this retains the vegetables' vitamins and nutrients), a saucepan (to cook the meat and onions) and a large pot (to mix everything together).
To make creamed soups and gazpachos with a great smooth texture, you will need to add a food processor to your list of basic equipment.
Now that you have the equipment you need, it's time to move on to the next step. For that, you'll need some imagination.
Try new flavour combinations, spices and garnishes
Be imaginative, and make your soups more flavourful by using spices such as ginger, curry, turmeric or chili pepper from the Espelette region in France to your heart's content.  
Or, how about adding some fruit? Orange zest can elevate your usual carrot soup from good to great! When your soup is ready to serve, add a little lemon juice, a spoonful of crème fraiche or sour cream, or some fresh coriander or basil leaves to make it tastier and more visually appealing.
You're short on time and need to skip a few steps? No problem!
Tips and tricks for making quick soups
Alas, there's no magic bullet: making a quick homemade soup does involve some planning. The good news is, the planning is very easy: simply make sure you always have some vegetables and homemade stock cubes in your freezer. You can buy fresh veggies and cut them up yourself, but it's quicker and easier to buy frozen ready-made mixtures such as our soup vegetables and our Italian-style soup vegetables.
After that, the rest is as easy as one, two, three! Get the vegetables and homemade stock out of the freezer, place them in a pressure cooker, add some water and turn it on. In just a few minutes, your quick soup will smell and taste as delicious as one that simmered for hours!
Making meal soups
Meal soups are mixtures that have enough nutrition to be served as a main dish. They are generally hearty concoctions with a long list of ingredients, including protein, carbohydrates, vegetables, and legumes, or dried beans. While the basic recipe remains the same, you can mix things up by adding ingredients such as rice, vermicelli noodles, tofu, etc. Check out the following links for some delicious meal soup recipes!
Vegetable and Ground Beef Soup with Yogurt Garnish
Be sure to store unused soup in the fridge or freezer.
Tips and tricks for storing your soup longer
Soup with eggs or cream should only be stored for two days in the fridge, but those without can be kept for up to a week. Be sure to put the leftover soup in a right-sized container, as this prevents air from getting in and causing spoilage.
If you don't plan on eating your soup within a few days or a week, store it in the freezer. This is a great way to handle "planovers", when you double the recipe to make your life easier. Simply fill Mason jars or Tupperware containers three-quarters full with the leftover soup… and supper's ready in minutes!
Making sweet soups

Photo: Marmiton
Because the ingredients and preparation are so similar, in some ways sweet soups and smoothies are like kissing cousins. To make them both, you just cut up some fruit, puree them and serve.
However, sweet soups incorporate other ingredients as well, such as white wine, ginger, vanilla, and (sometimes) a pinch of salt. Another difference is that smoothies are drunk out of a glass, whereas cold soups are served in a bowl and eaten with a spoon, making them much more versatile. The real difference between the two is that imagination is your only limit! You can garnish your creation with gingerbread, whole fruit pieces or nuts. Check out the following links for some delicious sweet soup dinner ideas:
So many different kinds!
The French have many different words for soup – potage, bisque, crème, velouté – but, in English, we tend to use the same one – soup – with a word in front to show what kind it is. The table below gives a brief description of the different kinds of soup.
Taking a trip around the world
Soup comes in a myriad varieties, with every country – and sometimes every region – putting its own stamp on this comfort food with distinctive ingredients or flavourings. Are you ready to let us take your taste buds on a journey around the world?
Australia and Indonesia

                                                                                                                Photo: Épices de cru
Our journey starts on the other side of the world, in Australia! The country's specialty is pumpkin soup, an attractive and delicious dish.
We leave Australia and head north to Asia, making a short stop in beautiful, tropical Indonesia. We cannot leave without tasting a delicious local specialty, soto ayam. Also found in Malaysia and Singapore, this spicy version of our own chicken noodle soup is made with rice vermicelli, green onions, and hard-boiled eggs and is flavoured with a hint of turmeric.
Thailand and Vietnam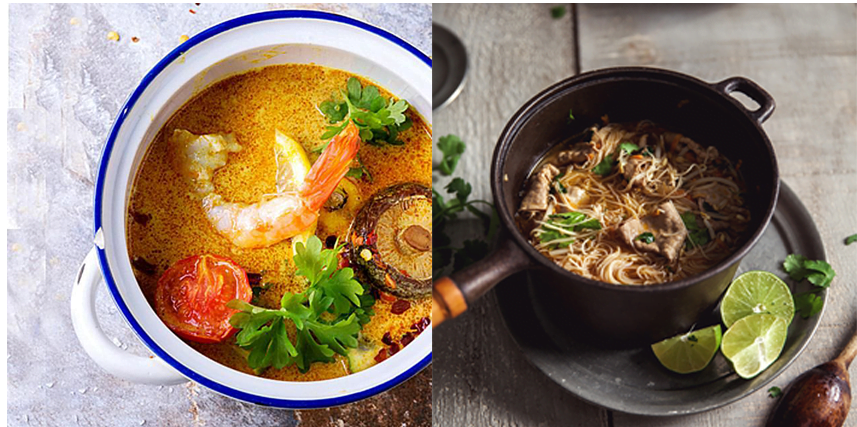 Photo: Trois fois par jour
Next stop: Thailand, where spicy food is king! Together with Laos, this is the birthplace of tom yum soup, also known as "tom yam", which is now eaten around the world. The hallmark of this very spicy soup is its special broth made with lemongrass, Kaffir lime leaves, lemon juice, fish sauce and crushed red chili peppers. Try it, you're sure to love it!
Tonkinese soup, or Pho, is Vietnam's signature dish. You can see people eating this tasty mixture of rice vermicelli, beef broth and seasonings on every street corner and at any time of day.
Japan and Russia


                                                                                                                Photo: 750g
The next stop on our tour is Japan. Miso soup is a just as much a staple of this country's culinary culture as rice, as it is served with just about every meal from breakfast through to dinner. The soup's two main ingredients are miso, a paste made of fermented soy beans and grains such as rice or barley, and dashi, a popular Japanese soup stock.
Now we're in Russia, the world's biggest country. A staple here and in several other Slavic countries, borscht is a beet soup made with meat, cabbage and sometimes potatoes. If you want to widen your beet horizons beyond the traditional Russian version, head to Lithuania to sample its cold borscht.
India and Bulgaria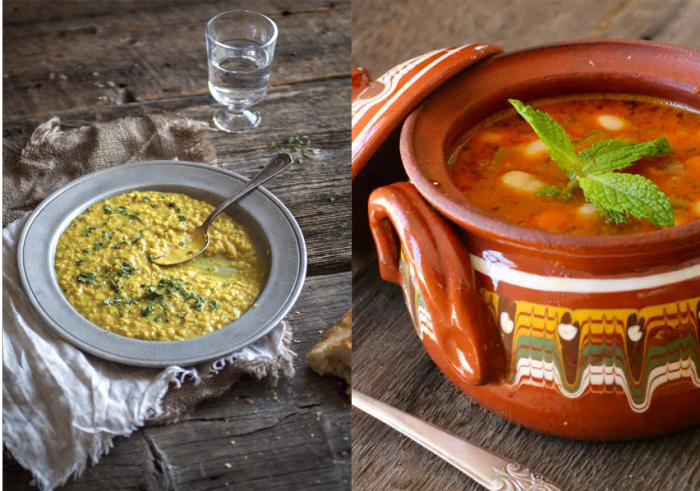 Photo: Trois fois par jour                                            Photo: 196 flavors
Our last stop on the South Asian subcontinent is India, the world's second most populous country. Known for its fragrant, spicy dishes, one of its specialties is dhal soup, a lentil soup flavoured with such Indian spices as curry, cumin and turmeric.
Heading northwest, our first stop on the European leg of our journey is in Bulgaria, where bob chorba (or "bean soup" in Bulgarian) is practically a national dish! While there are as many variations on this hearty soup as there are chefs making it, the basic ingredients always include beans, onions, tomatoes, carrots, peppers and mint.
Spain and Italy

Photo: Epicurien                                                                             Photo: Épices de cru
Originally made only in Spain and southern Portugal, gazpacho is now a favourite in many other countries. This soup is different from most of the others mentioned here as is it only ever served cold. In fact, it is more akin to vegetable juice than a traditional soup. The basic recipe always includes tomatoes and garlic and a "broth" of water or ice cubes, but diced raw vegetables such as cucumbers, onions and peppers are often added to the base.
Here we are now in the so-called "land of love" – Italy – where the signature soup is minestrone. A variation of the classic vegetable soup, the Italian version includes pasta, rice and/or a sprinkling of grated Parmesan cheese.
Greece and Morocco

Photo: Miam miam et Yum
Avgolemono is a thick Greek soup with an egg-lemon base that is also used as a sauce. To make avgolemono, cook rice, orzo or tapioca in some broth and then add the egg‑lemon mixture.
The next continent on our list is Africa, where we visit Morocco. The country's specialty soup is harira. Its basic ingredient is legumes, usually lentils, along with tomatoes, onions and meat.
Egypt and Peru


Photo: île aux épices
With so many new flavours to try, we linger on the African continent, where we taste the classic molokhia soup. Molokhia is a green, spinach-like plant that is used in soups, usually with chicken as the other main ingredient.
All aboard! Our journey now takes us across the Atlantic Ocean to South America, where we visit Peru. That country's delicious corn soup is prepared throughout the continent and has been exported to other parts of the world as well.
Canada

Photo: Recettes du Québec
Here we are, back in our home country of Canada, land of the beloved pea soup, staple of the sugar shack. Yellow split peas, ham and vegetables are the mainstay of this delicious, traditional, heartwarming dish.
Soup to go? Why not?
If you want to take your soup with you, it goes without saying that the right container is key; otherwise your tasty lunch will become a yucky mess. Our current favourite is the plastic bottle: the perfect container for packing all kinds of smooth soups that can be drunk straight from the container.
Mason jars are the go-to containers for packing chunkier soups. They are spill-proof, hard to break and easy to carry. Put all your soup ingredients (except herbs and onions) in the jar. When it's time to eat, simply add the herbs and onions and pour some boiling water into the jar, and presto! You have a hearty, nourishing meal!
Now that you've digested all these tips and suggestions, you're ready to head into the kitchen and try out a few of these yummy recipes from around the world. With so many kinds to choose from, it's impossible for soup to become a ho-hum meal. Nations are not the only ones that have a signature dish; families do, too! We'd love it if you'd send us your family's special soup recipes. In my family, it's Grandpa Claude's hearty vegetable soup. What are the most popular soups in yours?