Winter is the season for comfort, happiness and family. It lets us take advantage of the fresh air and all sorts of outdoor activities like skating, skiing, sledding, snowshoeing, etc. When we come in and warm up after a good day of winter sports, the desire for warmth often makes us want to prepare meals that reinvigorate and comfort us.
Easy and nourishing, comfort food dishes are popular at Arctic Gardens, so we've decided to focus on one dish in particular – the famous chili con carne!
For starters, chili con carne was a dish originally made with ground or minced beef (hence con carne which means meat) and chili peppers which are very spicy. To that, a Mexican spice blend made up of hot peppers, paprika, garlic, cumin, etc. is added. In its more contemporary version, chili has tomatoes, onion, garlic and sometimes bell peppers, beans, corn kernels, coriander and several other ingredients.
Very popular in many countries and cooked in as many different variations, this dish has countless secrets we don't know about. Let's discover them together.
The Controversial origins of chili con carne
Where does chili con carne really come from? Most people would probably say, "Mexico, of course!" Surprisingly, they would be wrong. Although the exact origins are not known for sure, this dish is without a doubt the signature of the southern United States, just as shepherd's pie is for Québec. Some joke about the famous Quebec steak, corn on the cob and potatoes, but chili con carne isn't that much more refined because it actually means "peppers with meat". Chili specialists have a few theories about the creation of the dish, each one just as plausible as the next, so here are two versions that Texans most believe are the origins:
Created in San Antonio, Texas, at the beginning of the 19th century, it was initially just a simple stew with chili peppers sold by chili queens who were, in fact, women who cooked huge quantities of chili at home before going to the public market to sell individual portions at a lower cost.
Texan prisoners would have had the chance to eat chili practically every day as this dish was not very expensive. Some of them recreated the dish once they left prison and it became really popular!
Even though the exact origins of this dish remains a mystery, one thing is for sure: with its Mexican-sounding name, chili con carne is a typical Tex-Mex dish. In other words, it means that it may be found at the heart of Texas, but its inspiration is Mexican!
The Evolution of chili con carne's commercial production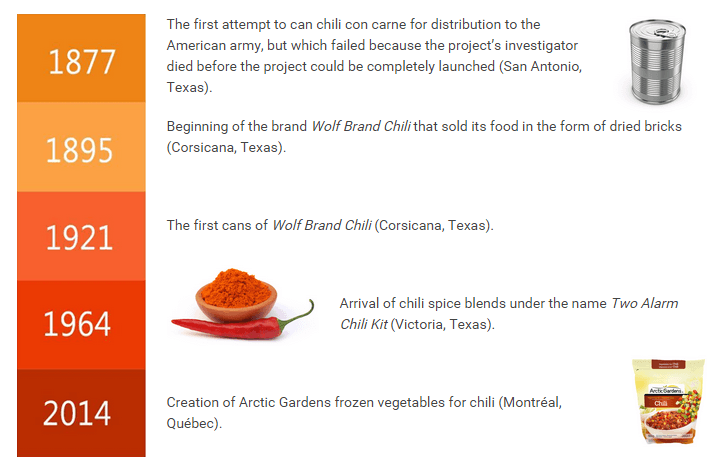 Chili cook-offs Craze!
The world of chili cook-offs aren't really well known here in Canada. There really are cooking competitions that showcase chili where participants cook their dishes right at the event site. These contests happen across the United States, but mainly in Texas where the first ones took place. Since 1970, the Chili Appreciation Society International has been organizing the annual World Open Chili Championship in Tarlingua, Texas. For the Society, these competitions serve to raise money for charitable work while participants cease the opportunity to stand out with their original chili recipe and maybe win a prize or simply bragging rights!
Every year, hundreds if not thousands of people go there to watch or participate in one or several chili cook-offs. The contests are open to everyone, but participants must go through a qualification process in order to get to the international championship. Also, these competitions are governed by several regulations like not being allowed to cook under a shelter or use certain ingredients that stray too far from the original recipe. Finally, winners are chosen after several rounds of criteria relating to things like the food's taste and after-taste, as well as its appearance (consistency and colour). Who knows? Maybe these contests will make it to Canada one day so that we can then participate!
February 26: National Chili Day
Surprisingly, National Chili Day is celebrated every year on the 4th Thursday of February. This is the perfect dish to cook to boost the troops' moral at the end of one of the coldest months in winter. It will be celebrated very soon this year – on Thursday, February 26! Mark the date on your calendar now because you know what you'll make that night!
10 Reasons to love chili
1. First and foremost – health
Chili can be really healthy if the cook wants it to be. Adding onions, two kinds of bell peppers and corn kernels makes chili chocked full of nutrients and vitamins. You can put whatever veggies you like – carrots, celery, zucchini, etc.
2. Chili savings
Did you know that a serving of chili costs around $1.50 or $2 depending on the recipe? Ingredients like paprika, chili powder and cumin can be used for other recipes, so you don't need to buy them every time you make a chili. For veggies, use whatever you have lying around the fridge and that are ready to be cooked. Ground beef is definitely the most expensive ingredient in this recipe, but you can put less if you want the dish to be as affordable as possible!
3. Three words: Practical, simple, quick
Some chili recipes are complicated and take time to prepare. The beauty of this dish is that there are many tasty recipes that take 10-15 minutes to prepare and 30 minutes to cook. It's simple. You just have to put all of your ingredients in a big pot and let the whole thing simmer while you take care of other things, like laundry or homework with the kids.
4. No one will be left hungry
Chili is known to be filling. After eating a serving, kids won't ask for anything else the rest of the night because they'll be really full. The combination of red kidney beans, tomato sauce, ground beef and veggies will tide everyone over whether they have big appetites or small ones!
5. When the chili comes, let the festivities begin!
What better to make than a hearty chili with tortillas or nachos when friends come over? Whether it's a potluck or snack before a football or hockey game, chili is sure to be a crowd pleaser and will add spice to your tailgate party, especially if you make a spicy recipe!
6. Leftovers aren't lost
As mentioned earlier, there are many recipes perfect for your leftover chili. If you don't think you'll eat the leftovers before they go bad, freeze some of it. It'll definitely be a lifesaver one night when you have many mouths to feed, but little time to get something on the table.
7. Kids approve!
Several chili recipes have been tested on kids and they definitely approve of the dish. If your kids are a little pickier and your recipe has an ingredient they don't like, try replacing it and you'll see how much they'll love the reinvented version made specially for them! If they're still sceptical, have them help prepare the meal with you. They'll suddenly enjoy the dish a lot more.
8. Versatility at its best
Without a doubt, chili can be cooked in every way possible! It doesn't matter what your favourite food is and what's in the fridge, there's a recipe right for you. In the mood for something sweet? Simply swap out cumin and paprika for honey or maple syrup. Got a roast pork to cook? Cut it into small pieces and add it to your chili. In short, whatever situation presents itself, making chili is always an option.
9. Chili sin carne: Your veggie dish of the week
Many people opt for a few meatless meals during the week, but have trouble finding dishes that have enough substance and protein. Chili sin carne with red kidney beans and/or chick peas is the ideal dish for this kind of meal! Take advantage to double the amount of veggies in your recipe. You'll love it!
10. All in one!
Once prepared, chili is a dish that is satisfying in itself! No need to make side dishes like rice or sautéed veggies because you'll find all the nutrients you need in the same mouthful. And you don't have to dirty several pots and serving dishes because one is all that's needed.
Variations of the recipe
Since its creation, the chili recipe has evolved according to the various regions where it's made. In the northern US, corn kernels are added whereas in the east, it's cheese that completes the dish. In Canada, red kidney beans are served with it which is considered a sacrilege by Texans! Ingredients that seem to be found in the dish regardless of the region are onions, garlic, tomatoes, chili powder, cumin, coriander and peppers. The most popular is still chili con carne although there is a version called sin carne or non carne meaning without meat. The word chili (which right away means there are chili peppers in the recipe), is now used throughout the world and indicates that the dish uses it whether it's vegetarian or not.
On the Internet, there are thousands of chili recipes, some more traditional and others more original which is reviving the dish. Here are some of my favourite chili recipes:
Chili's basic recipe: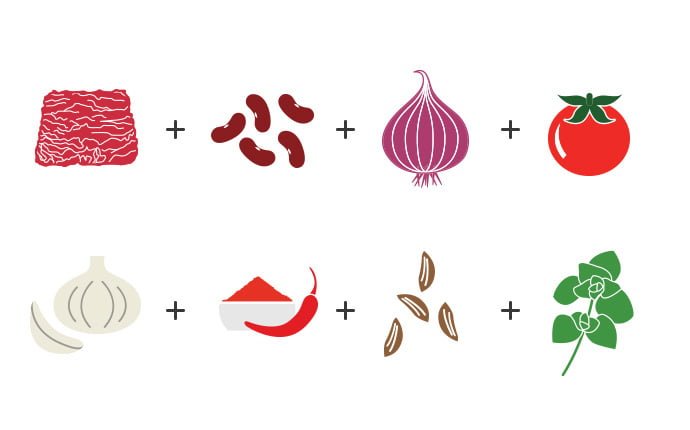 Ingredients: ground beef + kidney beans + onion + tomato + garlic + chili + cumin + oregano
For a spicy chili, add:

Ingredients: red chili pepper + paprika + cayenne + tabasco
For a sweet chili, add:

Ingredients: corn super sweet + honey
For a veggie chili, add: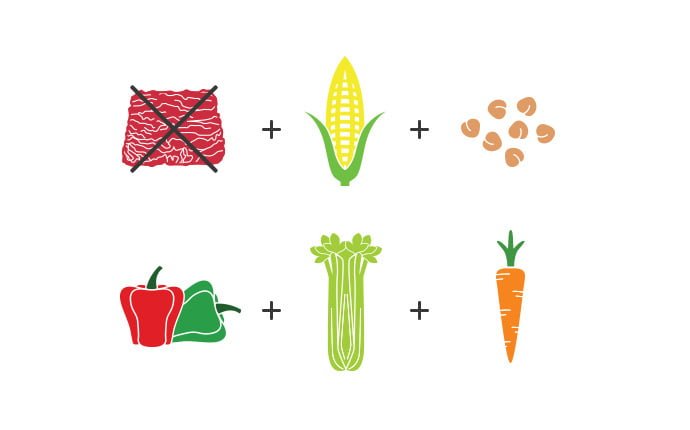 Ingredients: ground beef + corn super sweet + chickpeas + red and green peppers + celery + carrots
For the simplest et quickest chili:



Ingredients: Arctic Gardens vegetables for chili + cilantro
What to do with the leftovers?
If you're like many people and have trouble calculating the proportions when you cook, don't worry. You won't have to eat it every night for the rest of the week. We have a few recipe ideas for when you've made too much chili.
Take your leftover chili and add a can of diced tomatoes with its juices and some beef stock. (Depending on how much leftover chili there is, add about a cup to get the desired consistency). You can also add a little chili powder, garlic powder and cumin to taste.
Just serve the chili on top of spaghetti or spaghettini. You can also add tomato sauce to your mixture if it's too thick.
Put a good spoonful of your leftover chili onto a tortilla and add a little chopped lettuce, cheese, guacamole… In short, anything that your heart desires! Here's an example of a delicious recipe.
Spaghetti squash stuffed with chili
Bake your spaghetti squash in the oven according to the directions in this recipe, then stuff it with cheese and chili before sprinkling another layer of cheese on top. Put the whole thing in the oven until the top is nicely melted and golden!
Baked potatoes stuffed with chili
Steam your potatoes for about 25 minutes, then peel and cut them lengthwise into three. Then scoop out enough flesh to create a large enough space to add the chili and cheese. Put the little caps back onto the potatos, then put them onto tinfoil and bake in the oven at 300° F for about 15 minutes. Read a detailed recipe.
Who doesn't like a good chili dog? Your whole family will love this recipe and forget that they're eating leftovers from the night before. Boil your hot dogs in water or grill then on the stove in a little oil! Then depending on which you prefer, roast your hot dog buns with the hot dogs or toast them in the oven. In the meantime, reheat the chili in a pot and when everything is ready, pour the sauce on top of the hot dogs. The whole family will love them! If it's vegetarian chili and you want to keep the dish vegetarian, forget the hot dogs and put the chili directly on top of the buns.
Chili pizza is a recipe that's been tested and approved by kids who simply adore it. You can make a homemade pizza dough or use a store-bought one if you don't have time, then add your leftover chili sauce. Add cheese and bake your pizza in the oven at 450° F or according to package directions. Leave it in the oven until the crust is golden and the cheese is melted. Not in the mood to make your own pizza dough? Try the recipe on some naan.
We'll let you go now so you can go make yourself a delicious chili. And don't forget that leftovers will never disappoint for lunch or supper the next day because as they say, "Chili is always better reheated the next day!"