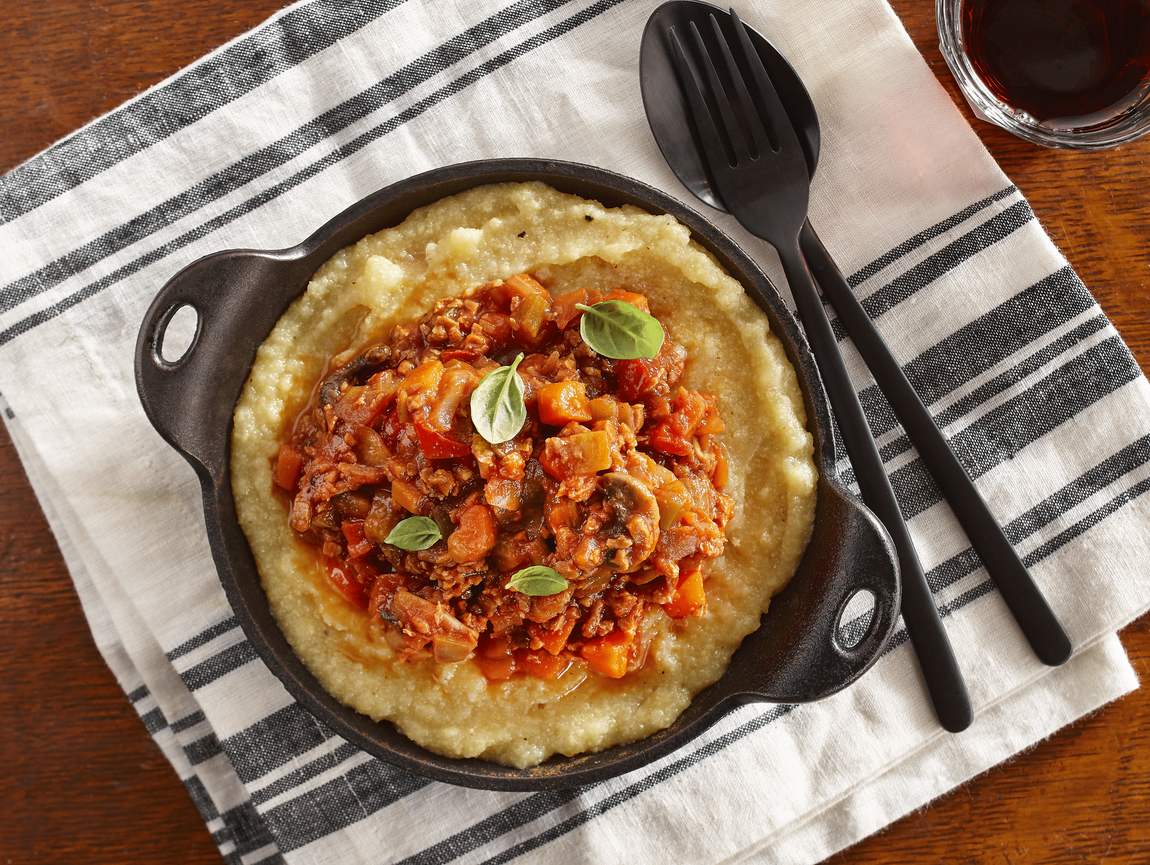 Ingredients
30 mL (2 tbsp.) olive oil
1 case of sliced mushrooms
2 cloves garlic, chopped
1 bag Arctic Gardens Spaghetti Vegetables
1 can 680 mL tomato sauce
250 mL (1 cup) water
Salt and pepper from the mill
250 mL (1 cup) textured vegetable protein (TVP), crumbled
6 to 8 fresh basil leaves, chopped
4 cups (1 liter) vegetable stock
1 cup (250 mL) yellow granulated corn (medium grits)
15 to 30 mL (1 to 2 tbsp.) flaked nutritional yeast

Preparation
In a large skillet, heat oil over medium-high heat and sauté mushrooms for 5 minutes.
Add garlic and cook for one more minute.
Add vegetables and continue cooking for 5 minutes.
Pour tomato sauce into skillet and add 250 mL (1 cup) of water and bring to a boil. Season generously.
Add the textured vegetable protein, stir and simmer over low heat while the polenta cooks.
In a saucepan, bring the broth to a boil.
Reduce heat to medium-low, add cornmeal and cook, stirring frequently, for about 5 minutes or until cornmeal is tender and the consistency is a purée. Cover and let stand a few minutes.
Stir in baking powder and season to taste.
Add the basil to the sauce and adjust the seasoning.
Serve polenta topped with sauce and more fresh basil if desired.
Recipe ideas using this product