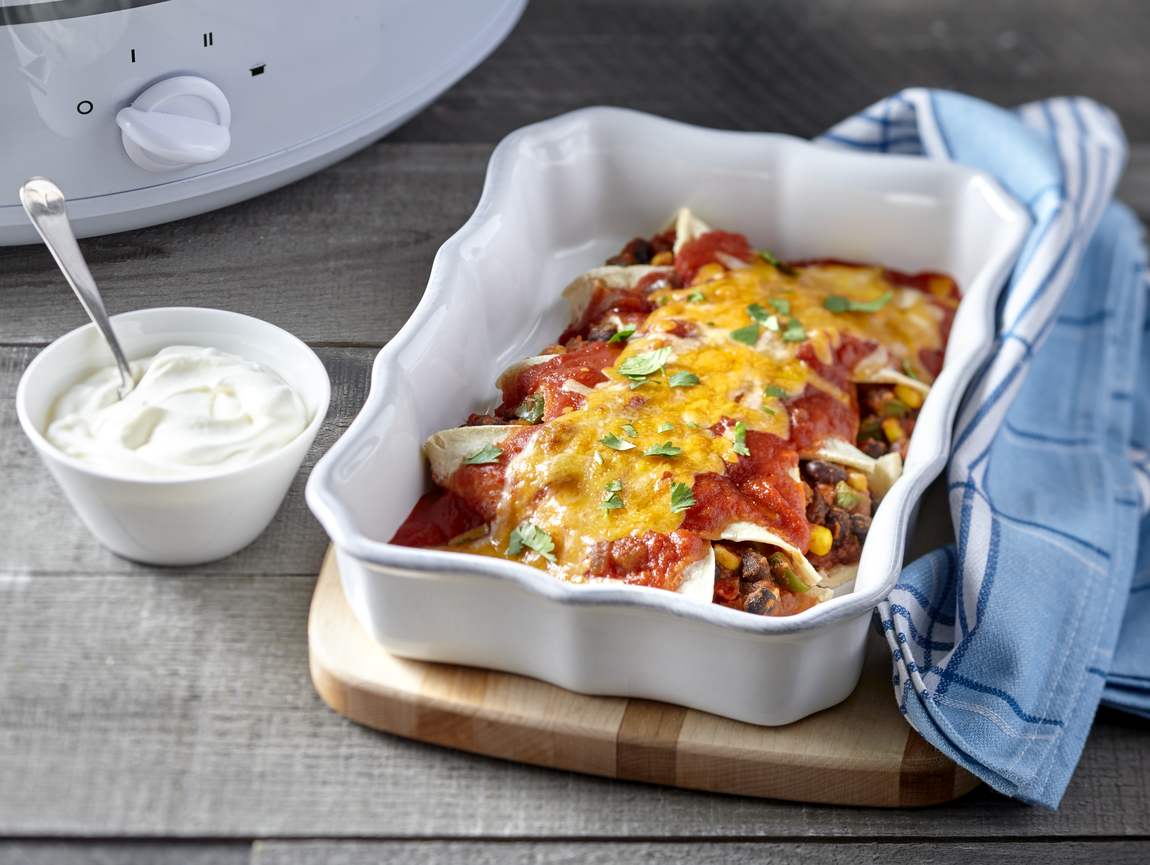 Ingredients
4 c (1 litre) tomato sauce
1 ½ c (375 ml) salsa
2 cans 14 oz (398 ml) cans red kidney beans, rinsed and drained
1 can 14 oz (398 ml) black beans, rinsed and drained
1 bag Arctic Gardens vegetables for chili
1 1/2 cups (375 ml) (1 ½ tasse) Arctic Gardens vegetables for spaghetti or spaghettini
1 1/2 cups (375 ml) Arctic Gardens super sweet corn
2 tbsp (30 ml) Tel Mex spice mix
18 small corn tortillas
1 ½ to 2 c (375 to 500 ml) grated cheddar
Freshly chopped cilantro, to taste
Sour cream
Preparation
Combine tomato sauce with salsa and pour 1 cup (250 ml) of the mixture into the slow cooker. Set aside the remaining sauce in the fridge.
Empty a can of red kidney beans into a plate and crush with a masher or fork.
In the slow cooker, add the whole and crushed beans, vegetables and spices. Mix well.
Cook on high for 2 to 3 hours or on low for 4 to 6 hours.
When done, correct the seasoning and top with tortillas. Roll and place in a lasagna dish.
Top with tomato sauce and salsa mixture, sprinkle with cheese and bake in the oven preheated to 425 oF (210 oC) for 15 minutes.
Garnish with cilantro and serve with sour cream.
Suggestion: The slow cooker veggies can be used to make tacos or enjoy as a chili.
Nutrition Facts (per serving) :
Calories: 542, 2
Protein: 26,4g
Fat: 16,2g
Carbohydrate: 79, 8 g
Fibre: 15, 6 g
Sodium: 2738, 1mg
Recipe ideas using this product