Have you ever wondered who's behind your Arctic Gardens veggies? Well, in this article, farmers share five things you should know about their profession. We'll also unveil portraits of a few of the farmers who produce your favourite veggies with passion and pride.
Every year, Bonduelle forges partnerships with producers found in the most fertile regions of Canada and around our transformation plants. To preserve veggie freshness, it's essential that harvesting sites and plants be close to each other.
From several regions in Canada, these producers all have taken different paths, but they have one thing in common – their passion for farming. Without their supported efforts and expertise, we wouldn't be able to offer quality products. That's why we think it's important to shed light on their work and their involvement in healthy food. Learn about their work! Who knows, you might even know one of them!
Five things you should know about farming as revealed by Arctic Gardens growers
1 – The hardest veggie to grow
Many farmers will tell you that sweet peas are the hardest veggie to grow. Know why? Because this delicate vegetable really can't take too much water. As soon as there's a heavy rain, sweet peas find themselves drowning in water, choke and die. Heat is their other enemy. It accelerates their maturation so they don't have enough time to grow to be big and beautiful.
2 – The next generation of farmers is disappearing
Finding people to continue their farming tradition isn't always easy for people who own farms. Young people must be ready to commit and work hard to do this kind of job. Even though passion for the land is often transferred from generation to generation, sometimes there just isn't anyone to take over the family business and that's a very real issue today.
3 – Land is really expensive
Buying new farmland is a real challenge for farmers who want to expand and produce more. The cost of land is getting more and more expensive. Working farmers aren't the only ones affected by this increase. It also prevents the younger generation and new farmers who don't have a family farm to establish themselves. Their only option is to rent land.
4 – Farming turns to technology
Drones in the fields, robots milking cows, tractors guided by GPS… Farming isn't what it used to be! Despite the fact that it's expensive, this kind of innovation is a good investment for farmers, especially if they don't have farmhands.
5 – Farming isn't just a job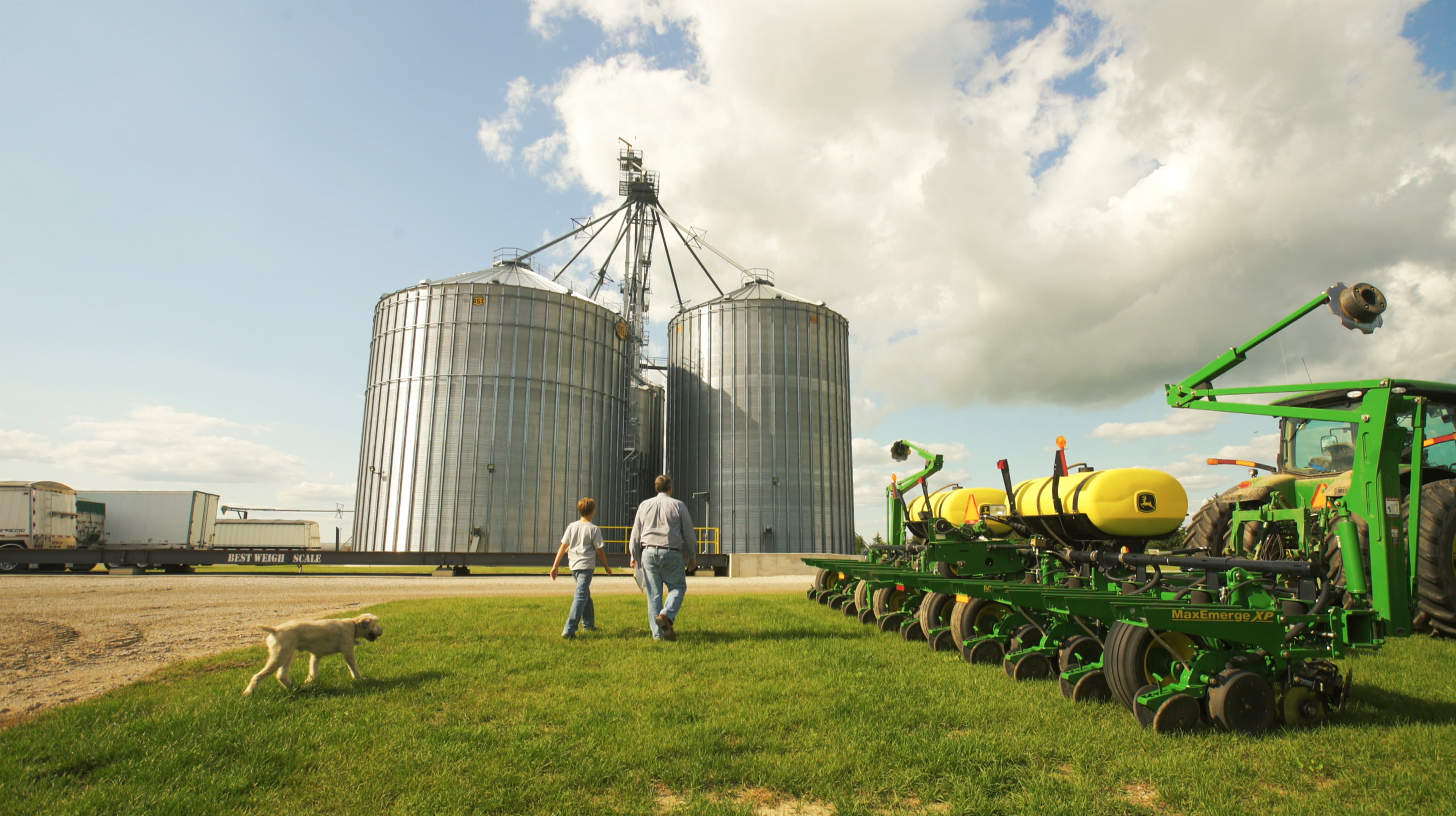 It's common to hear farmers say that the job isn't really work, but more a way of life, a hobby – even a calling. In this kind of context, it's important to love what you do. When you think about it, it's really rewarding for producers to know that they're key players in society, that among other things, it's because of them that people can eat and have access to a food.
Arctic Gardens farmers – who are they?
Mac, Grant and Rod Ferguson
Farming: It's about family
Farm: Mac Ferguson Farms Ltd.
Location: St. Thomas, Ontario
Production: Corn and green beans
Success in farming
We often hear that family farms are passed down from generation to generation. This is true for the Fergusons. In 1830, the family's ancestors were already immersed in the farming world and the generations who came after, never stopped practicing – actually, they continued the farming passion – but what can they attribute to this generational success?
Mac Ferguson tells us that their farm business is based on several elements. The most important? Being surrounded by people who share the same passion, if not more! You have to take care of the people who work for you as much as the people who work with you.
Mr. Ferguson also thinks that the climate in Ontario is one of the best for growing vegetables. After all, Mother Nature does play a big role when it comes to successful crops.
He reminds us though, that when everything is going well, it's easy, but when you run into obstacles, you have be even more determined, dedicated and breathe! Would this be the result of hard work?
Diversified profession
If you ask Mac which tasks he prefers, he'd say none. All roles are important for a successful business. You have to learn them all, but especially learn to love the less interesting ones. Everyone has to roll up their sleeves whether it's picking up rocks or yanking out weeds. It's just part of the job!
With six full-time and twelve part-time employees, this farmer puts great importance on training and supporting his team. It's essential to have a qualified and committed staff.
Facets of the work
Even though Ontario's climate is great for growing crops, the weather can sometimes play tricks on our farmers, so it wouldn't be farfetched to say that this profession is one of the most dependent on Mother Nature. The temperature sometimes forces Mac to be more flexible and adapt to changes. Often, agricultural planning must be reviewed more than three times a year. The main reason? You guessed it – the temperature!
Other than the weather, challenges also include the market, currency, international trade agreements and regulations.
An evolving profession
Mac has noticed that there have many changes in the way they work over the years. Before, he could work the fields with two tractors and a truck – no problem. Now, harvesters more than six rows wide do all the work! Quality and precision are better, but he confided in us that sometimes, he misses the good ol' days when he could work with next to nothing…
Move over for the next generation
At Mac Ferguson Farm Ltd., you could almost say that the next generation is already established. At only 10 years old, his son Grant would like to get more involved in the farm. He loves farming and likes learning about the work. For him, it's a rewarding job because it means that he provides food for people. For this young boy, he's proud to participate in food production!
John Steele, A return to farming
Farm: Steele Farm Group
Location: Kintore, Ontario
Production: Sweet corn, peas and green beans
Generation: 5th
His path
Even though he grew up in a family of farmers, John wasn't sure he wanted throw himself into the profession. It was while working at an agricultural bank for five years that he realized that being a farmer was what he really wanted to do.
Even though this work can sometimes be hectic, John gets a certain sense of satisfaction. It's a real personal accomplishment, he told us. The banking way of life is far from farming – it's just the opposite. John likes working in the fresh air and finds being his own boss very gratifying.
Responsible farming
According to John, the recipe to excel in farming is finding the balance between business and social responsibility. You have to make money while doing what's right for the environment. It's not only about providing a high quality food product, but to do that while respecting ecological standards.
Recognizing the importance of saving the land and the soils, this farmer uses several methods to maintain more sustainable and respectful environmental practices. Over and above ensuring the best quality of his products, he contributes to more sustainable farming for future generations.
Working with Bonduelle
High season starts at the beginning of spring so farmers don't slack off! Steele Farm Group works with Bonduelle to determine the number of acres to grow on and which vegetables to produce.
Once the earth is fertilized and worked, it's time to sow and Bonduelle provides the seeds. In exchange, Steele is responsible for planting and taking care of the crops, but he'll always have the team's support to check the quality of the fields.
When the veggies are ready, Bonduelle comes with a combine to harvest and transport the products to the transformation plant. So that's the road your Arctic Gardens veggies take!
Kids on the farm
For Steele and his wife, raising their kids on the farm is a good opportunity for them to feel a sense of community. In smaller cities, everyone knows each other – that's what's so great. Kids also see where food comes from and they learn quickly enough about how the product life cycle works.
Farming demystified
John thinks that most people associate farming with a little barn and pleasant, quiet way of life. He'd like people to know that there is another vision of this profession. It's not seasonal work and it's not a 9 to 5 job. On the farm, there are a lot of things to do and that means being there 365 days a year. It's demanding. You have to take it one day at a time. But for John, these are all good reasons to do what he loves because he wants to continue growing the business and one day, leave a great legacy to the future generation. These are the noble aspirations that make him want to go on!
Eric Van Moerkerke, Farming – what a sport! 
Farm: Willow Hawk Farms
Production: Green beans, lima beans, sweet corn and peas
Location: Tillsonburg, Ontario
Generation: 2nd
Farming acreage: 2,212 acres
His path
Farmer since 1981, Eric never thought he'd be anything but. When you grow up on a farm, it's a natural choice. Before starting his career, Eric didn't think twice about studying farm management so he could run the business successfully. So 34 years later, Eric is still sharing his expertise and knowledge to provide us the best vegetables.
Farming success
For Eric, the success of his business isn't based solely on the cost of production. It's being able to grow and harvest the best possible crops with the best nutrition there is. The important thing is to take care of the soil so that it's still here in 100, 200 or even 300 years from now! This producer works hard to provide balanced food while treating the soils with a lot of respect. Environmental awareness is a quality that all good farmers should have.
Working with Bonduelle
If the relationship with Bonduelle and this producer has been going this well for 34 years, it's because of the communication between them. For Eric, it's important to know that they're on the same wavelength and that the two teams work together towards the same goal of growing quality products on well-maintained soil. With Bonduelle, Mr. Moerkerke feels supported and always gets good advice to ensure the best crops.
Sports at the heart of family life
At the Moerkerke's house, you can feel the sporty spirit everywhere. Between the arena and the pool, it's hard to believe that this farmer has time to do everything! As a football and hockey coach, Eric has sports running through his veins and his kids have inherited that. One of his sons played for the Ontario Hockey League and the other made the national swim team. For Eric, it's important to always make time to support his kids despite the heavy workload.
So there! The secret behind our Arctic Gardens bags is a secret no more! Every day, farmers work hard to give us only the best. Good weather, bad weather – they'll always take real pleasure in growing crops to harvest the fruits of their labour. Because of the commitment of our workers who toil the soils, we're proud to contribute to the meals Canadians enjoy.