Vegetable ramen with spicy miso and lime broth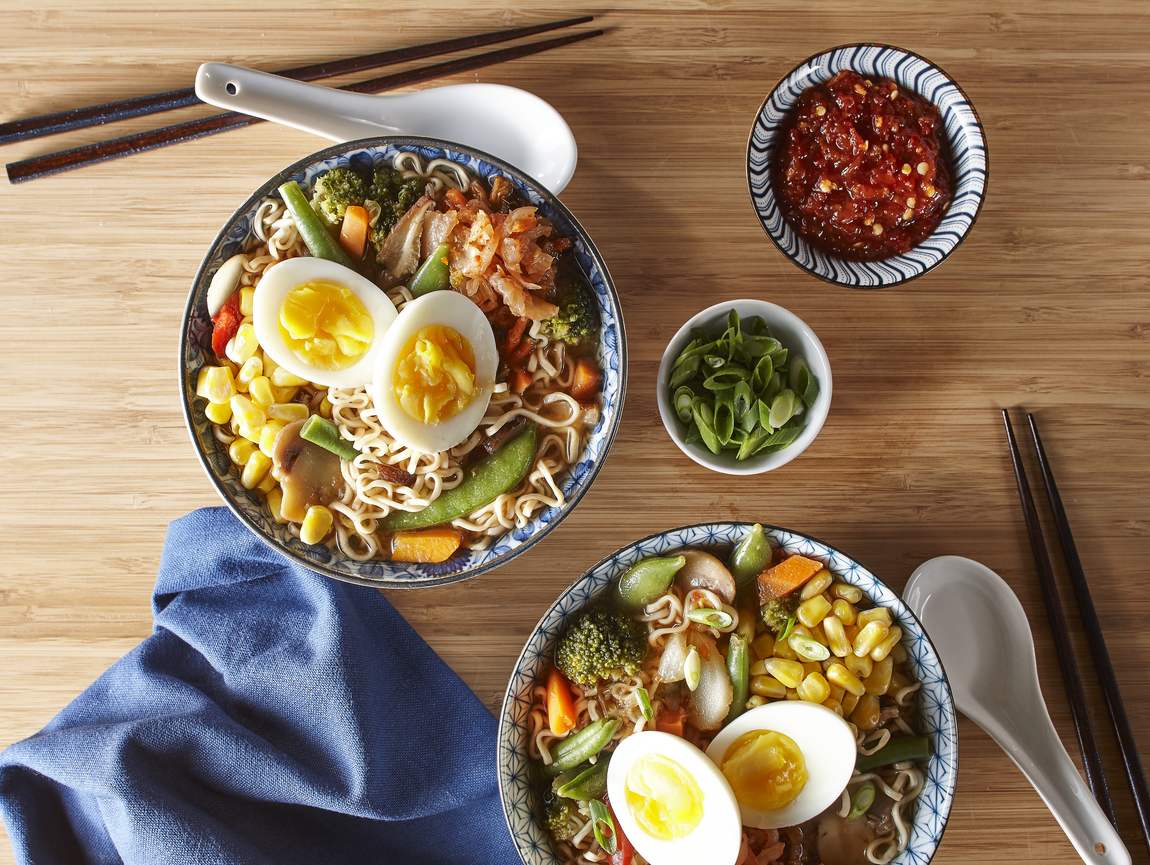 Ingredients
10 to 15 g (0.3 to 0.5 oz) dried mushrooms (shiitake), crushed
2 liters (8 cups) boiling water
4 eggs
60 mL (1/4 cup) Japanese-style miso
1 lime, zest and juice
5 to 10 mL (1 to 2 tsp.) sambal oelek
30 mL (2 tbsp.) toasted sesame oil
2 cloves garlic, chopped
15 mL (1 tbsp.) fresh ginger, chopped
1 bag Arctic Gardens Asian Style Stir-Fry Vegetables
250 mL (1 cup) Arctic Gardens Super Sweet Corn
225 g (1/2 lb) Ramen noodles
Kimchi to taste - Optional
2 green onions, chopped

Preparation
In a jug, rehydrate the mushrooms in boiling water to create a broth.
Place eggs in a small saucepan, cover with water and bring to a boil. When the water boils, allow 3 minutes. Drain the hot water and fill the pan with very cold water to cool the eggs. If necessary, add ice cubes to stop the cooking process. Remove the eggs from the pan and set aside.
In a bowl, mix miso with lime zest and juice and sambal oelek.
In a large saucepan over medium-high heat, heat 15 mL (1 tbsp.) sesame oil and sauté garlic and ginger for 2 minutes.
Add vegetables and cook for 5 minutes.
Pour the broth with the mushrooms into the pan and bring to a boil. Simmer for 5 minutes.
Place corn in a microwave-safe bowl, cover and cook for 2 minutes.
Cook noodles in broth according to package directions.
Pour miso mixture into saucepan and stir well. Adjust the seasoning of the broth.
Divide noodles, vegetables and broth among 4 large bowls.
Add corn, kimchi, an egg cut in 2, sprinkle with green onions and add a few drops of sesame oil. Taste.
Recipe ideas using this product