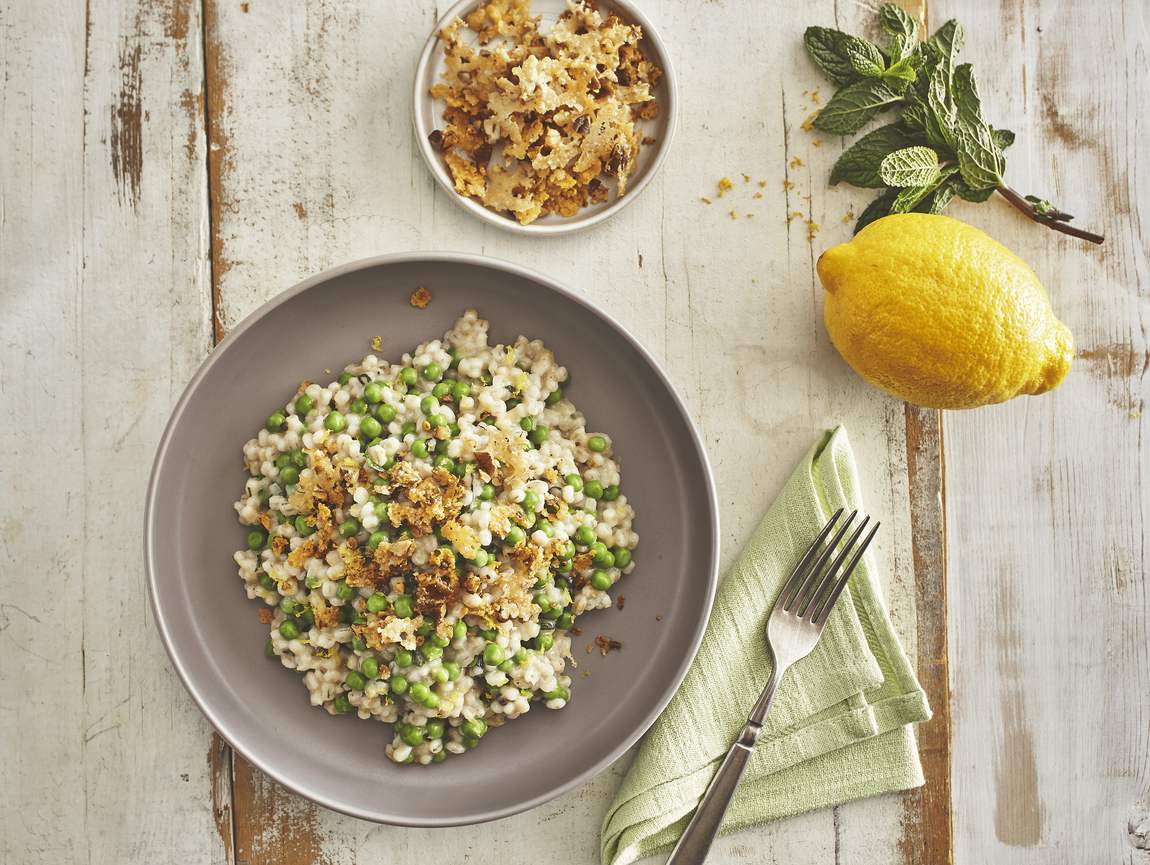 Ingredients
310 mL (1 ¼ cups) pearl barley
45 mL (3 tbsp.) chopped nuts (pecans, walnuts, almonds, etc.)
250 mL (1 cup) grated Parmesan cheese, separated
10 mL (2 tsp.) olive oil
10 mL (2 tsp.) butter
2 French shallots, chopped
750 mL (3 cups) vegetable stock, hot
625 mL (2 1/2 cups) Arctic Gardens peas
½ to 1 lemon, zest
30 to 45 mL (2 to 3 tbsp.) chopped fresh mint
Salt and freshly ground pepper

Preparation
In a saucepan, bring salted water to a boil and cook barley for 15 minutes. Drain and rinse.
Meanwhile, preheat oven to 450oF (230oC).
On a parchment paper-lined baking sheet, place chopped nuts in small piles and sprinkle generously with 60 mL (1/4 cup) grated Parmesan.
Bake for 4 to 5 minutes until golden and crisp. Let cool and break into pieces to garnish the orgetto.
In a large, deep skillet over medium-high heat, heat oil and melt butter. Cook shallots for 2 minutes.
Add pre-cooked barley and toss to coat with oil and butter.
Reduce heat to medium-low, add hot broth 125 mL (1/2 cup) at a time, letting it absorb between each addition. Cook until barley is tender, about 10 minutes. Add peas at the same time as the last addition of broth and cook for at least 3-4 minutes.
Add lemon zest, mint and remaining Parmesan cheese and stir to blend. Season to taste.
Serve orgetto in soup plates. Garnish with walnut and parmesan crisp as is or with fish, shrimp or scallops.

Recipe ideas using this product