Basmati rice with green beans and peas topped with feta cheese and nuts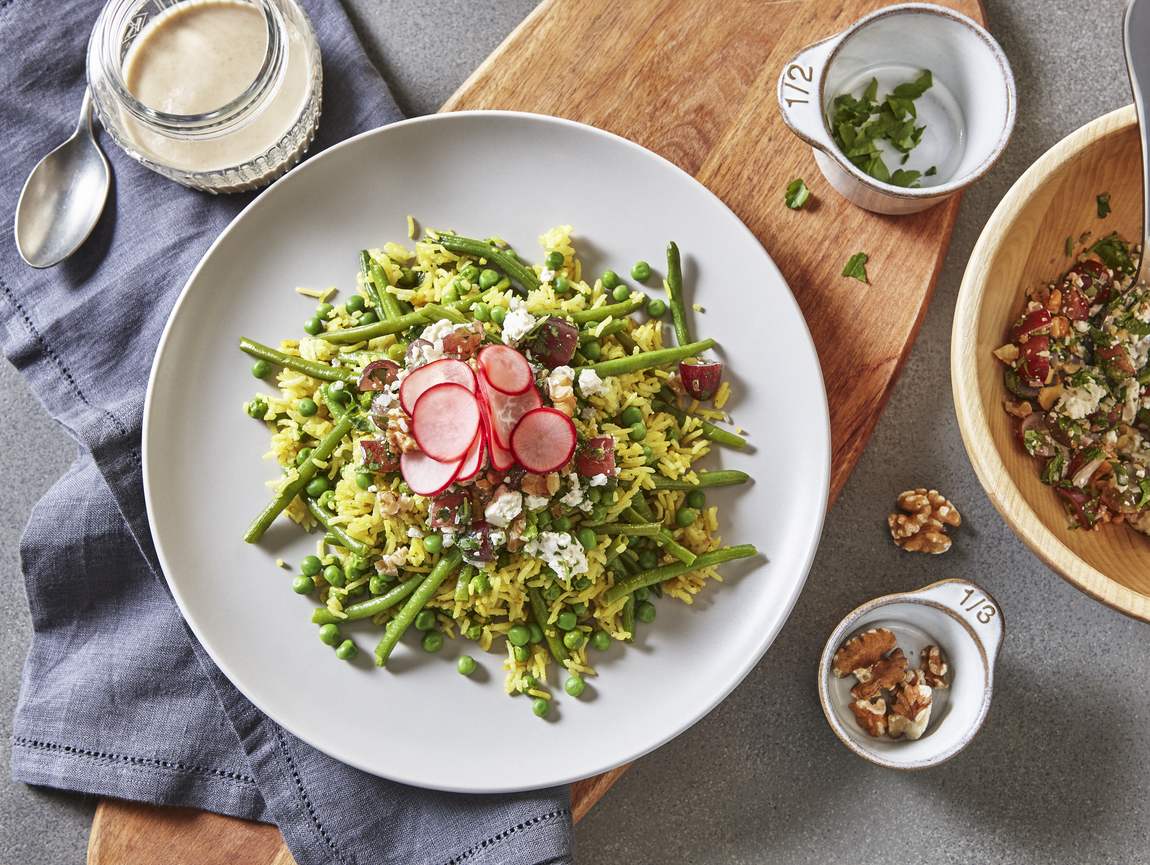 Ingredients
125 mL (1/2 cup) sliced radishes
15 mL (1 tbsp.) lemon juice
1 mL (1/4 teaspoon) salt
1 mL (1/4 teaspoon) sugar
250 mL (1 cup) basmati rice
15 mL (1 tablespoon) olive oil
2 mL (1/2 teaspoon) ground turmeric
Salt and pepper from the mill
1 bag Arctic Gardens Extra-Fine Green Beans
500 mL (2 cups) Arctic Gardens Petite Peas
250 mL (1 cup) red grapes, quartered
1 French shallot, chopped
125 mL (1/2 cup) coarsely chopped fresh parsley
80 mL (1/3 cup) walnuts, pecans or crushed almonds
125 mL (1/2 cup) feta cheese
45 mL (3 tbsp.) tahini
45 mL (3 tbsp.) maple syrup
45 mL (3 tablespoons) lemon juice
5 mL (1 tsp.) zaatar

Preparation
Place the radishes in a bowl, add the lemon juice, salt and sugar. Let marinate while preparing the recipe.
Rinse rice under cold water and drain.
In a large, deep skillet or saucepan, heat oil over medium-high heat. Add rice and stir to coat. Add 430 mL (1 3/4 cups) water, turmeric, salt and pepper.
Bring to a boil, reduce heat to low, cover and cook for 10 minutes.
Add peas and beans to rice and continue cooking for 10 minutes or until rice has absorbed all water and beans are tender.
Meanwhile, in a bowl, combine grapes, shallot, parsley, walnuts and feta cheese.
In another bowl, mix tahini with syrup, lemon juice and zaatar. Add water if necessary and season to taste.
Remove pan from heat, top with grape and nut mixture and tahini sauce and drained pickled radishes.

Recipe ideas using this product