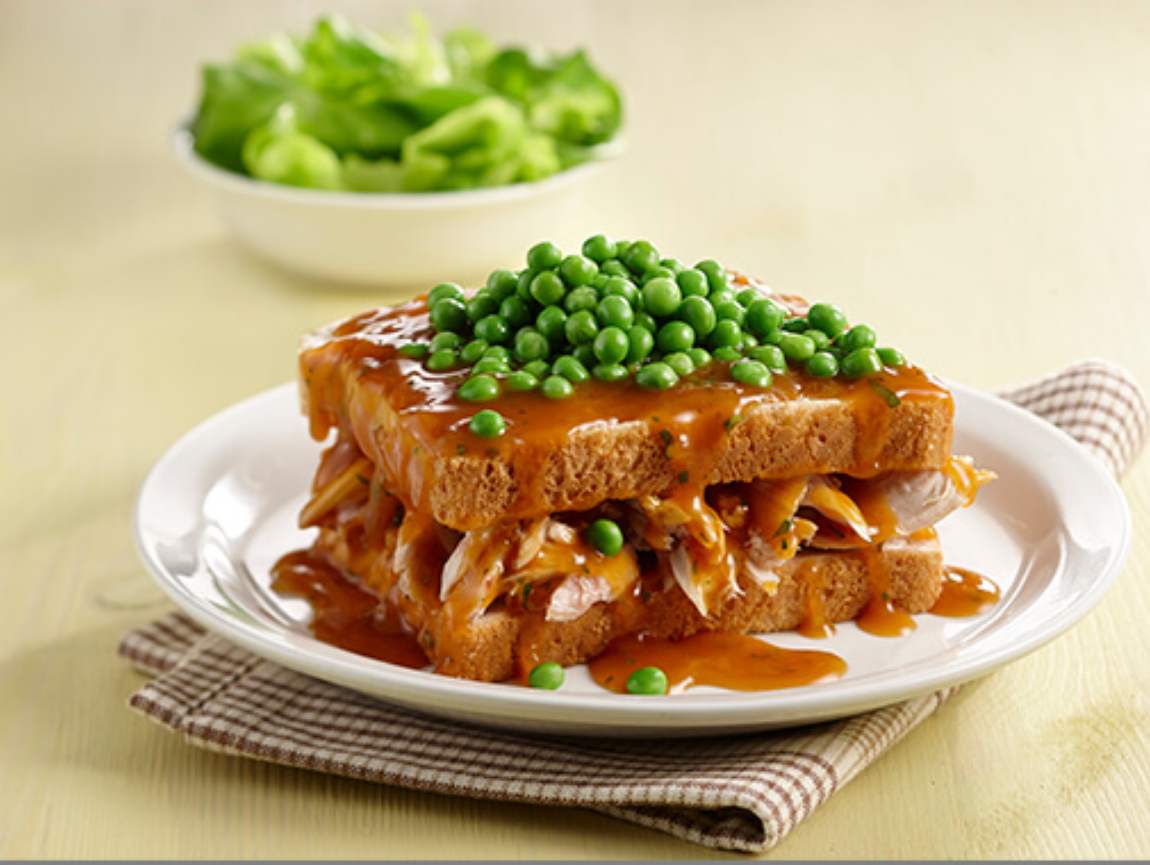 Ingredients
Hot chicken gravy:
2 tsp (10 ml) vegetable oil
1 cup (250 ml) onion, finely chopped
½ cup (125 ml) butter
2/3 cup (160 ml) all-purpose flour
5 cups litre (1.25) chicken stock
Freshly ground pepper
¼ tsp (1 ml) dried thyme
2 tbsp (30 ml) freshly chopped parsley
2 tbsp (30 ml) concentrated beef bouillon
5 cups (1.25 litre) cooked chicken
8 slices of bread, your choice
2 cups (500 ml) Arctic Gardens sweet peas
Suggestion: For a change, add Dijon mustard to your hot chicken sauce to make a Dijonnaise sauce.
Preparation
1- In a large pan, heat oil to medium heat and cook onions for 2 minutes.
2- Add the butter and melt. Add the flour and mix until a smooth paste is obtained. Cook for 1 minute.
3- Add the stock gradually while whisking. Bring to a boil while stirring constantly.
4- Add pepper and herbs. Simmer for 3 to 5 minutes. Incorporate the concentrated beef bouillon.
5- In the meantime, cook the sweet peas according to package instructions.
6- Reheat the chicken.
7- To serve, place a slice of bread onto each of the 4 plates. Separate the chicken equally onto the 4 slices of bread. Then ladle a spoonful of the very hot sauce on top.
8- Cover each sandwich with another slice of bread and cover with sauce. Portion the peas onto the 4 sandwiches and serve immediately.
Nutrition Facts (per serving):
Calories: 770
Protein: 40 g
Fat: 34 g
Carbohydrate: 77 g
Fibre: 6 g
Sodium: 1300 mg
Recipe ideas using this product