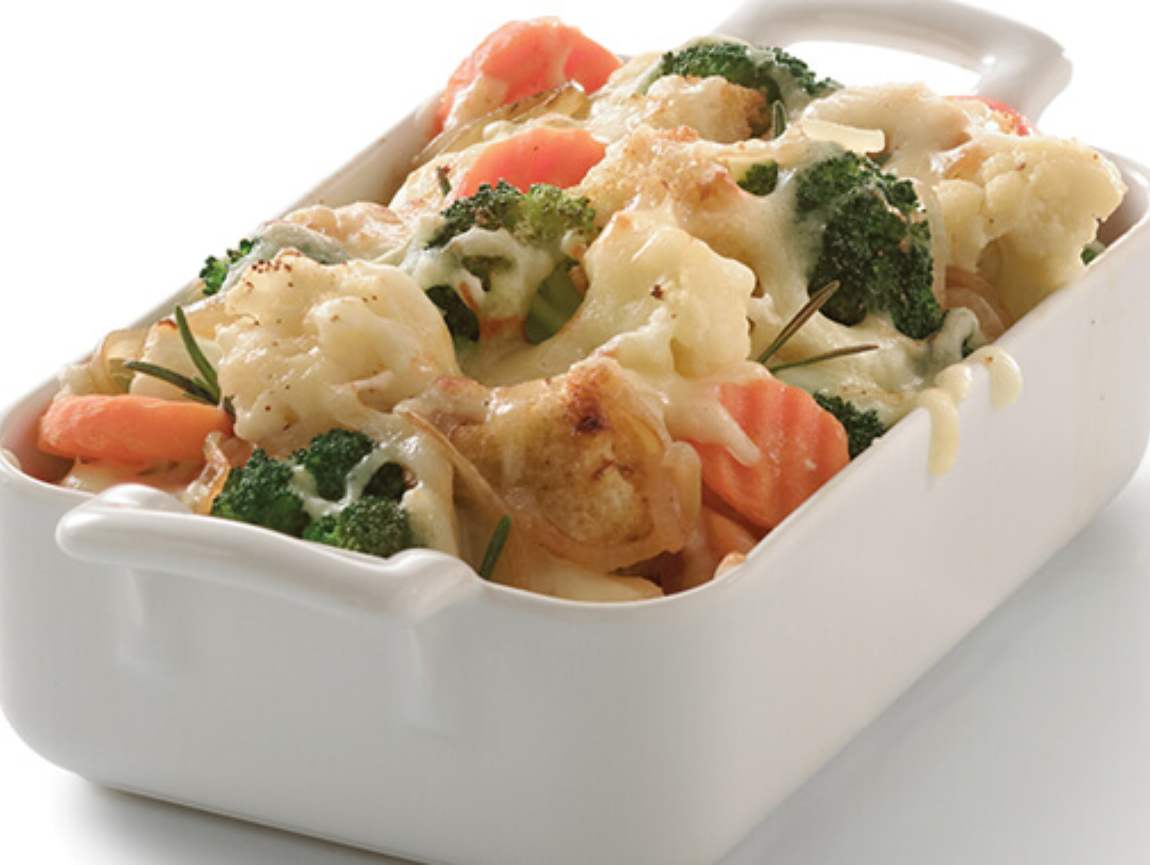 Ingredients
1 bag (750 g) Arctic Gardens California Style vegetables
240 g (8 oz) Canadian Swiss cheese
1 tbsp (15 ml) butter
1 onion
1 tbsp (15 ml) fresh rosemary
¼ cup (60 ml) white wine
2 tsp (10 ml) cornstarch
1 cup (250 ml) sodium-reduced chicken or vegetable broth
nutmeg, salt and freshly ground pepper
1 cup (250 ml) salad croutons
Preparation
Preheat oven to 425°F (220°C).
Spread out a bag (750 g) of Arctic Gardens California Style Mix frozen vegetables in an oven-safe dish.
In a saucepan, melt 1 tbsp (15 ml) butter on medium heat and brown 1 onion, minced, along with 1 tbsp (15 ml) fresh rosemary, until caramelized.
Deglaze with ¼ cup (60 ml) white wine.
Dissolve 2 tsp (10 ml) cornstarch in 1 cup (250 ml) sodium-reduced chicken or vegetable broth and pour into saucepan.
Bring to a boil, adding a pinch each of nutmeg, salt and freshly ground pepper. Let thicken, then pour over vegetables.
Top with 1 cup (250 ml) salad croutons and 8 oz (240 g) Canadian Swiss cheese, grated, and bake in oven 10–15 minutes. Savour.
Nutrition Facts (per serving):
Calories: 200
Protein: 11g
Fat: 11g
Carbohydrate: 13 g
Fibre: 2g
Sodium: 212 mg
Recipe ideas using this product