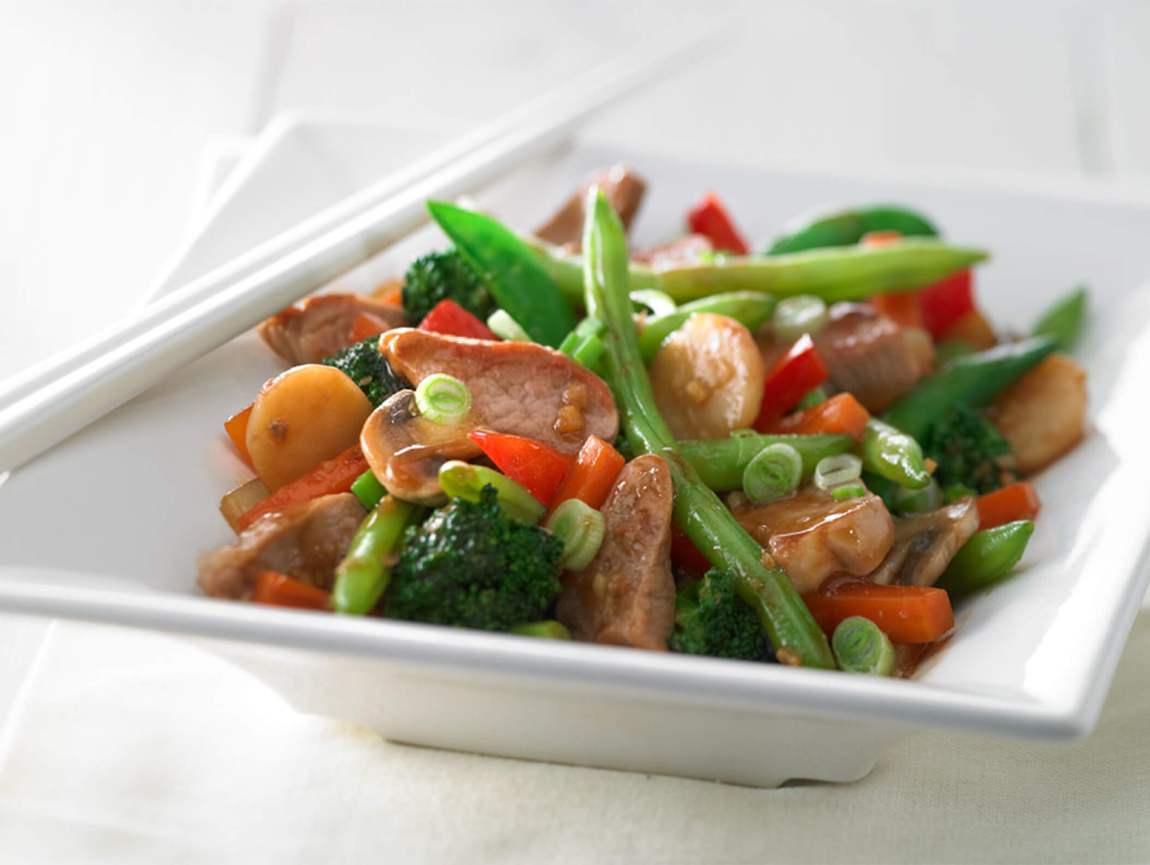 Ingredients
1 bag (750 g) Arctic Gardens Stir-Fry Asian Style Vegetables
1 pork tenderloin (about 12 oz/375 g)
1 tbsp (15 mL) vegetable oil
2 cloves garlic, minced
2 tbsp (30 mL) minced gingerroot
3/4 cup (175 mL) chicken broth
1/2 cup (125 mL) oyster sauce
2 tbsp (30 mL) soy sauce
4 tsp (20 mL) cornstarch
1 tbsp (15 mL) rice vinegar
2 green onions, sliced
Preparation
Slice pork in half lengthwise; cut crosswise into 1/2-inch (1 cm) thick slices. In large wok or skillet, heat oil over high heat; stir-fry pork until just a hint of pink remains, 4 to 5 minutes. Transfer to plate.
Add garlic and ginger to wok; stir-fry over medium-high heat for 30 seconds. Add Arctic Gardens Stir Fry Asian-Style Vegetables; cover and steam until tender-crisp, about 6 minutes.
Return pork and any accumulated juices to wok. Whisk together broth, oyster sauce, soy sauce, cornstarch and vinegar; stir into wok and cook, stirring, until thickened, about 1 minute. Sprinkle with green onions.
Tip : If you like sweeter flavors, add 1 tbsp (15 mL) soy sauce and 1 tbsp (15 mL) hoisin sauce.
Nutrition Facts (per serving):
Calories: 180
Protein: 17 g
Fat: 5 g
Carbohydrate: 17 g
Fibre: 3 g
Sodium: 970 mg
Recipe ideas using this product