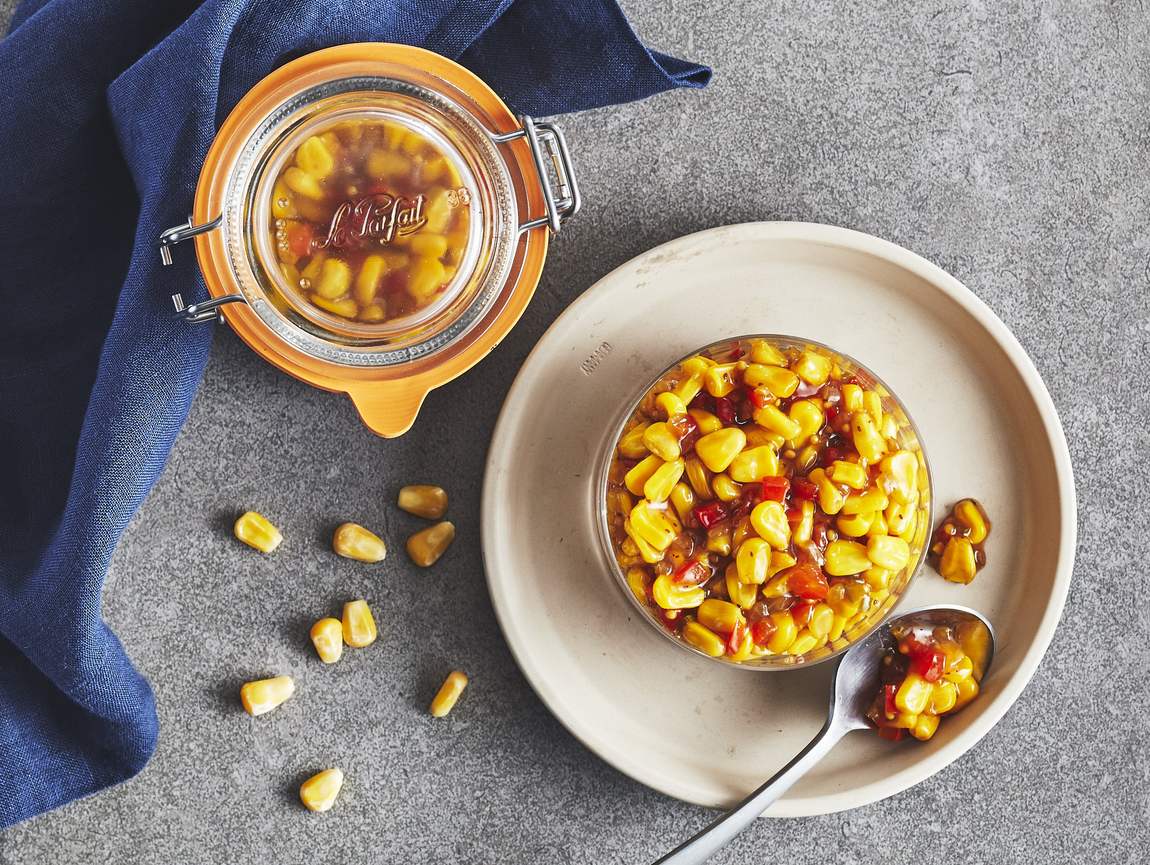 Ingredients
1 cup (240ml) cider vinegar
1/2 cup (120ml) sugar
2 tsp (10ml) salt                                                                                                                                                                                                  4 cups (960ml) Arctic Gardens super sweet corn
1 cup (240ml) finely diced red bell pepper
1 small jalapeno pepper, seeded and finely diced
1/2 cup (120ml) red onion, finely diced
1 tbsp (15ml) mustard seeds
1 tsp (5ml) celery seed
1/2 tsp (2.5ml) coriander seeds
1/2 tsp (2.5ml) turmeric powder
1/4 cup (60ml) water
2 tbsp (30ml) cornstarch
Preparation
1. Preheat a large pot over medium-high heat, add the cider vinegar, sugar and salt. Bring to a boil,
then add the frozen corn, red bell pepper, jalapeno pepper, onion, mustard seeds, celery seeds,
coriander seeds and turmeric. Reduce heat to low and simmer for 10 minutes, stirring frequently.
2. In a small bowl, mix the cornstarch and water. Stir it into the corn mixture and heat over medium
heat. Simmer for 3 to 5 minutes or until the relish begins to thicken.
3. Ladle the hot relish into clean Mason jars, leaving 1⁄2" headspace. Let cool to room temperature
before transferring to the refrigerator. The relish will keep for up to a month in the refrigerator.
Nutrition Facts (per 100g)
Calories: 80
Protein: 1g
Fat: 0.4g
Carbohydrates: 19g
Fibre: 2g
Sodium: 360mg
Recipe ideas using this product