Chick pea, broccoli and apple salad with caramelized pecans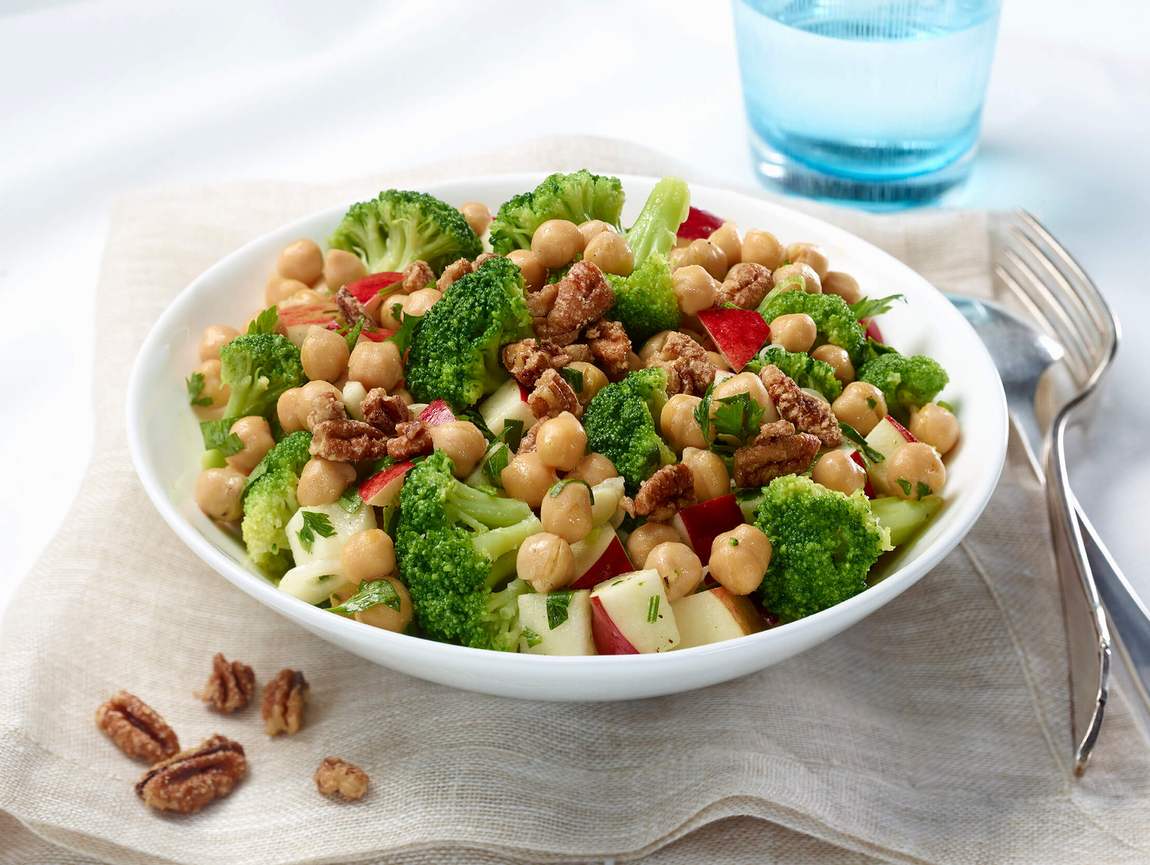 Ingredients
½ cup (125 ml) pecan pieces
2 tbsp (30 ml) maple syrup
1 bag Arctic Gardens broccoli florets
2 tbsp (30 ml) canola oil
2 tbsp (30 ml) cider vinegar
1 tbsp (15 ml) Dijon mustard
1 tbsp (15 ml) maple syrup
1 19-oz can (540 ml) chick peas, drained and rinsed
1 apple, diced
3 green onions, chopped
¼ cup (60 ml) roughly chopped parsley
Salt and ground black pepper
Preparation
In a pan on medium heat, roast the pecans by stirring frequently for 5 to 10 minutes.
Add 2 tbps (30 ml) of maple syrup and continue cooking for about 5 minutes so that the syrup sticks to the pecans and caramelizes them. Transfer to a plate lined with parchment paper.
Let cool and break up with a knife.
In a large pot, bring salted water to a boil and cook the broccoli for 3 to 4 minutes.
Drain in a colander and rinse under cold water. Set aside.
In a large bowl, whip together the oil, vinegar, mustard and 1 tbsp (15 ml) of the maple syrup.
Add the chick peas, diced apple, green onion, parsley and cooled broccoli. Season to taste.
Garnish with caramelized pecans and serve as a main dish.
Nutrition Facts (per serving):
Calories: 365
Protein: 12 g
Fat: 19 g
Carbohydrate: 43 g
Fibre: 8 g
Sodium: 120 mg
Recipe ideas using this product