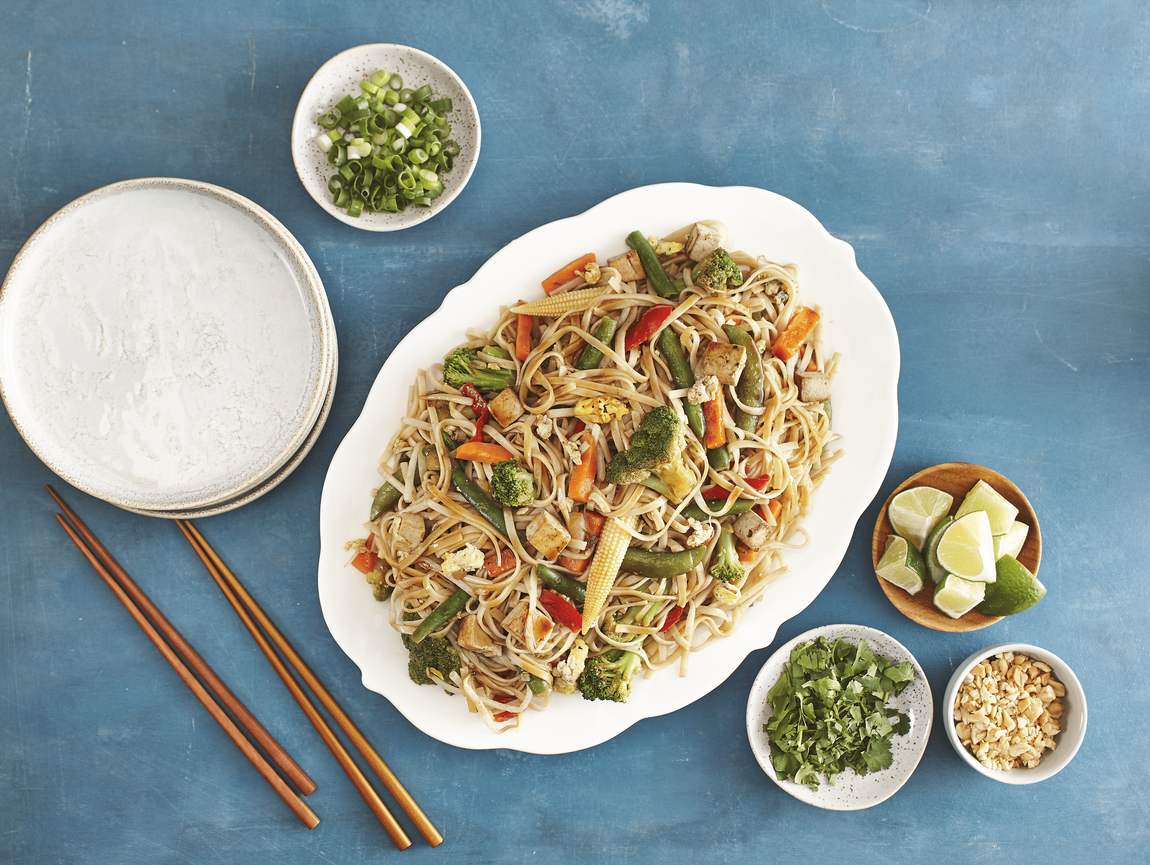 Ingredients
Sauce:
45 mL (3 tbsp.) tamarind puree
45 mL (3 tbsp.) fish sauce
45 mL (3 tbsp.) oyster sauce
60 mL (¼ cup) pressed brown sugar
15 mL (1 tbsp.) sambal oelek
225 g (1/2 lb) narrow rice noodles
15 mL (1 tbsp.) vegetable oil
1 bag Arctic Gardens Thai Style Stir-Fry Vegetables
225 g (1/2 lb) store-bought marinated tofu or marinated in soy sauce, diced
2 eggs
1 liter (4 cups) bean sprouts
4 green onions, chopped
60 to 80 mL (1/4 to 1/3 cup) chopped peanuts
125 mL (1/2 cup) fresh coriander, chopped
1 lime, cut into quarters
To taste, hot sauce
Preparation
Prepare noodles according to package instructions, either by soaking or cooking in a pot of boiling water. Drain, rinse with cold water and drain again.
In a bowl, combine sauce ingredients. Set aside.
In a wok or large skillet, heat oil over high heat and sauté vegetables for 5 minutes.
Add diced tofu and stir-fry for 2 minutes.
Push the vegetables and tofu to the sides and add the eggs to the center of the pan. Cook like scrambled eggs.
Reduce heat to medium, add noodles, bean sprouts and sauce.
Bring to a boil and simmer for 2 minutes or until noodles are tender.
Serve noodles topped with green onions, peanuts and cilantro and accompanied by lime and hot sauce.

Recipe ideas using this product