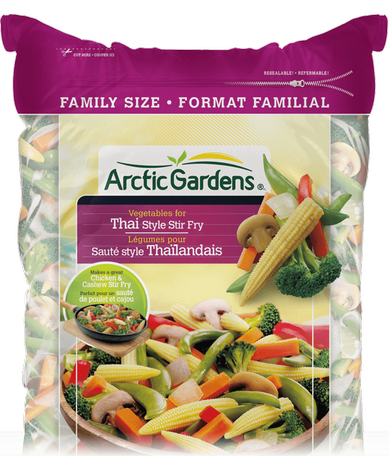 Product Information
Ingredients
Carrots, broccoli, green beans, onions, sugar snap peas, baby corn, red peppers , mushrooms
Cooking Method
Recommended Method:
Stir Fry | Skillet


Preheat a 12" (30 cm) skillet to medium-high.
Pour frozen vegetables in the skillet.
Stir regularly. Serve immediately when cooked to stop cooking

SUGGESTION :For best results, preheat vegetables in the microwave according to the suggested time chart in the alternate method then stir-fry in a skillet for 1 to 2 minutes.
Alternative Method:
Microwave
Pour vegetables in a microwaveable dish with ¼ cup of water and cook on high power.
1/4 sac : 4-5 min.
1/2 sac : 7-8 min.
Do not refreeze thawed product. If thawed, cook immediately.
Recipe ideas using this product