The recipes we love
Warm green bean, halloumi and grilled peach salad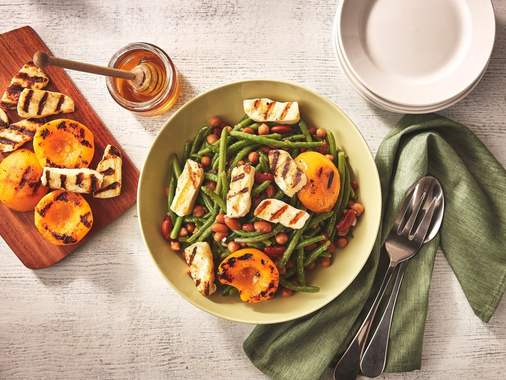 Warm green bean, halloumi and grilled peach salad
Preparation Time
Cooking Time
Ingredients
1 bag Arctic Gardens green beans
1 French shallot, chopped
3 tbsp (45 ml) olive oil
3 tbsp (45 ml) wine or cider vinegar
2 tsp (10 ml) honey
1/2 tsp (2 ml) ground cumin
Salt and ground pepper, to taste
1 canned mixed beans
About 5 oz (150 g) halloumi or other grilling cheese, sliced
1 can 14 oz (398 ml) Del Monte peach halves , drained
Preparation
In a large pot, cook the green beans in boiling salted water for about 5 minutes.
Meanwhile, in a large bowl, combine shallot, olive oil, vinegar, honey and cumin.
Drain the beans and run under cold water. Drain again and transfer to the dressing bowl, add the beans and season to taste.
In a grill pan or non-stick pan over medium-high heat, grill cheese slices on both sides and peach halves.
Recipe ideas using this product