The recipes we love
Warm celery root and bocconcini salad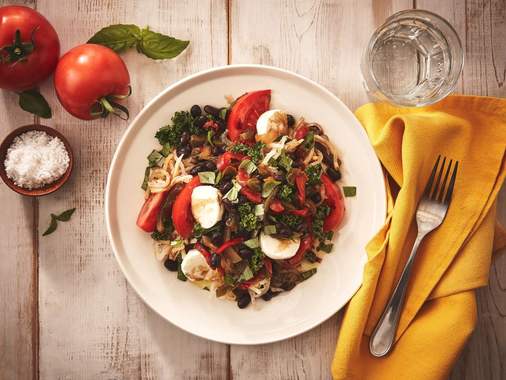 Warm celery root and bocconcini salad
Preparation Time
Cooking Time
Ingredients
2 tbsp (30 ml) olive oil
1 bag Arctic Gardens vegetables for pizza
1 can black beans
Salt and freshly ground pepper
1/4 c (60 ml) balsamic vinegar
2 c (500 ml) kale, chopped
1 can of Del Monte Shredded Celery Root
2 tomatoes, quartered
1 container about 6 ½ oz (200 g) mini-bocconcini, cut in half
3 tbsp (45 ml) coarsely chopped basil
Preparation
Meanwhile, in a large non-stick pan, heat oil at medium high and sauté vegetables for 2 minutes.
Add the black beans and cook for another 1 minute.
Season to taste and add the balsamic vinegar.
Remove from heat, add kale and stir.
In a large bowl, combine the celery root with the tomato wedges, bocconcini, pan contents and basil.
Correct seasoning and serve.
Recipe ideas using this product