The recipes we love
Veggie pâté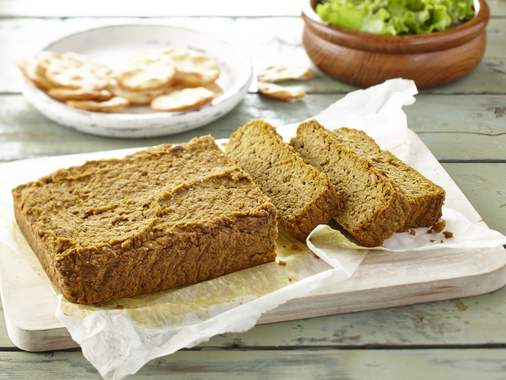 Veggie pâté
Preparation Time
Cooking Time
Ingredients
2 cups (500 ml) Arctic Gardens vegetables for the slow cooker
1/2 cup (125 ml) sunflower seeds
1/2 cup (125 ml) pumpkin seeds
2 tbsp (30 ml) sesame seeds
3 tbsp (45 ml) canola oil
1 can 19 oz (540 ml) brown lentils, rinsed and drained
2 tbsp (30 ml) tahini
2 tbsp (30 ml) soya sauce
2 tbsp (30 ml) lemon juice
1 tsp (5 ml) ground turmeric
1 tsp (5 ml) ground coriander
1 tsp (5 ml) mustard powder
1/2 tsp (2 ml) ground cumin
1/4 tsp (1 ml) salt
1/4 tsp (1 ml) ground pepper
Preparation
In a large pot of boiling salted water, cook the vegetables for 5 minutes. Drain, rinse under cold water and drain again.

In a pan, toast the seeds in canola oil on medium heat for 7 to 10 minutes or until lightly golden. Remove from heat immediately and transfer to a plate to stop cooking.

Preheat the oven to 350 oF (180 oC). Line a bread pan with parchment paper.

Using a food processor, process the vegetables with the lentils.

Add the toasted seeds and tahini. Process.

With the food processor running, add soya sauce, lemon juice, and spices. Continue processing for about 2 minutes or until mixture is smooth. Pour into the mold and smooth with a spatula.

Bake in the oven for 45 minutes. Let cool to room temperature and refrigerate for at least 2 hours before removing from the pan. Slice.

Serve in sandwiches, on crackers or with raw vegetables.
Nutrition Facts (per serving) :
Calories: 176
Protein: 6,8g
Fat: 11,7g
Carbohydrate: 13,6g
Fibre: 3,9g
Sodium: 291,6mg
Recipe ideas using this product