The recipes we love
Slow Cooker Pork and vegetables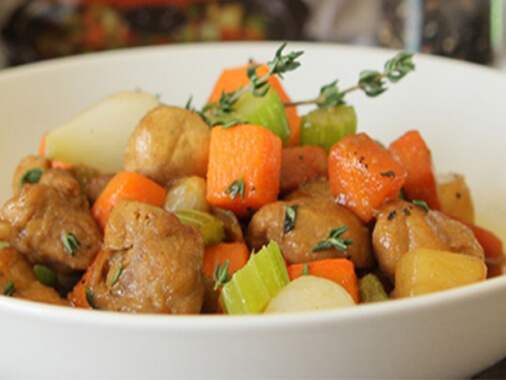 Slow Cooker Pork and vegetables
Preparation Time
Cooking Time
Ingredients
1 bag (750g) Arctic Gardens slow cooker vegetables
30ml vegetable oil
1kg pork cubes
250ml brewed tea
1 bay leaf
2 l veal stock
15ml butter
salt and pepper
4 garlic cloves, chopped
1 sprig thyme
Preparation
Combine 1/3 of the Slow Cooker vegetables, veal stock in a saucepan and bring to a boil.
Heat oil in a skillet over high heat, melt butter, and sear pork. Season.
Transfer pork to a slow cooker and return skillet to heat.
Deglaze skillet with tea and pour mixture into slow cooker.
Add hot veal stock and vegetables, garlic, bay leaf, and thyme, Cook covered for 4 hours.
Remove bay leaf and thyme. Pour cooking juice into a saucepan and reduce until veal stock has the consistency of a sauce (meat glaze).
Pour over pork and vegetables.
For crisper vegetables, sauté another serving of Arctic Gardens Slow Cooker Mix in butter and a little sauce.
Add to stew when ready to serve. Serve garnished with fresh thyme.
Nutrition Facts (per serving):
Calories: 530
Protein: 68 g
Fat: 18 g
Carbohydrate: 23 g
Fibre: 5 g
Sodium: 900 mg
Recipe ideas using this product