The recipes we love
Slow Cooker Beef Stew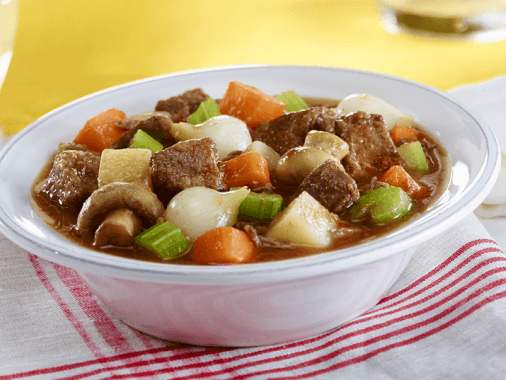 Slow Cooker Beef Stew
Preparation Time
Cooking Time
Ingredients
2 tbsp (30 ml) canola oil
1 tbsp (15 ml) butter
2 lbs (900 g) stewing beef, cubed
1 cup (250 ml) beer
3 tbsp (45 ml) flour
2 tbsp (30 ml) tomato paste
2 cups (500 ml) beef stock
1 bay leaf
5 sprigs fresh thyme
2 ml (½ tsp.) Sweet or hot smoked paprika
2 ml (½ tsp.) Dry mustard
2 ml (½ tsp.) Ground cumin
Salt and pepper
Preparation
In a large pot, heat oil on high heat and melt butter.
Brown beef cubes in small batches and put in the slow cooker.
In the same pan, sauté vegetables until thawed and add to the meat in the slow cooker.
Deglaze the pan with the beer.
Mix flour into the tomato paste and add beef stock gradually. Pour into the casserole, bring to a boil and transfer to the slow cooker.
Add bay leaf, thyme, salt and pepper. Stir and cover.
Set the slow cooker to high and cook for 4 to 5 hours or on low for 7 to 8 hours.
Nutrition Facts (per serving):
Calories: 330
Protein: 36 g
Fat: 14 g
Carbohydrate: 16 g
Fibre: 3 g
Sodium: 243 mg
Recipe ideas using this product