The recipes we love
Sautéed green beans à la provençale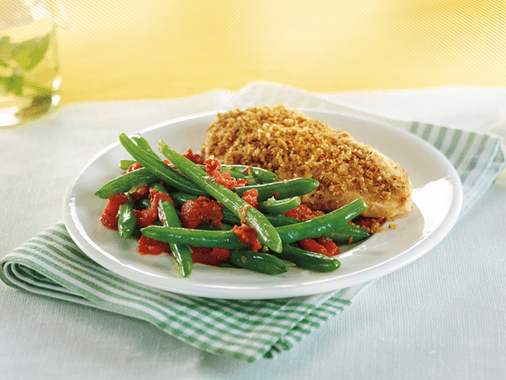 Sautéed green beans à la provençale
Preparation Time
Cooking Time
Ingredients
3 tbsp (45 ml) olive oil
½ cup (125 ml) bread crumbs
2 cloves of garlic, minced
1 tsp (5 ml) herbes de Provence
salt and freshly ground pepper
4 deboned chicken breasts
1 bag of Arctic Gardens whole green beans
2 cloves of garlic, minced
½ onion, chopped
1 ½ cups (375 ml) fresh tomatoes, seeded and diced OR 1 14 oz (398 ml) chopped canned tomatoes with juice
Preparation
Preheat the oven at 400o F (200o C).
In a bowl, mix together olive oil, bread crumbs, garlic and herbes de Provence. Season.
Put the chicken breasts in an oven-proof casserole dish and coat with bread crumbs.
Bake in the oven for 20 to 25 minutes.
In the meantime, in a large pan, heat oil on high heat and brown onions and garlic for 2 minutes.
Add green beans and cook for about 5 minutes.
Add tomatoes and herbes de Provence and cook for another 5 minutes. Season to taste.
Serve green bean à la provneçale with crispy chicken.
Nutrition Facts (per serving):
Calories: 233
Protein: 24 g
Fat: 9 g
Carbohydrate: 14 g
Fibre: 4 g
Sodium: 82 mg
Recipe ideas using this product