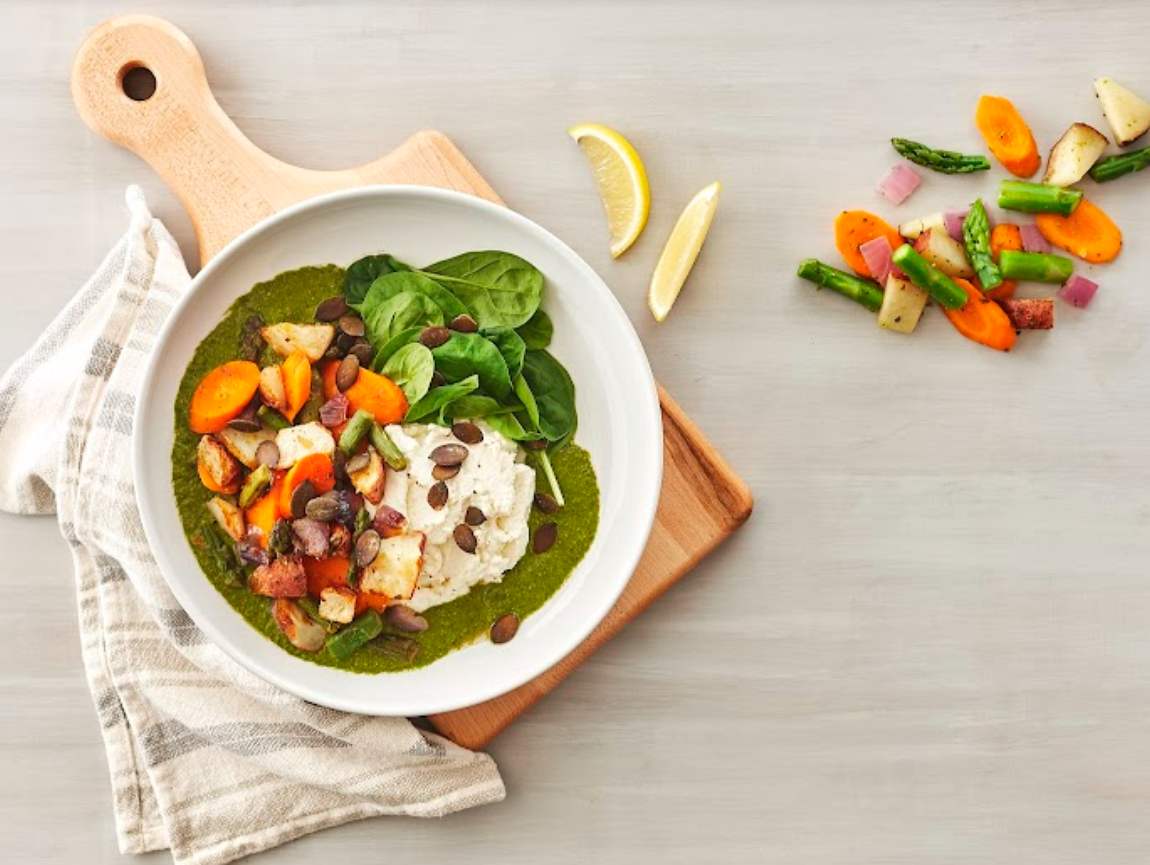 Ingredients
1 bag of roasting vegetable mix
500 mL (2 cups) baby spinach
180 mL (3/4 cup) ricotta cheese
Green pesto
45 mL (3 tbsp.) pumpkin seeds
2 garlic cloves, peeled and degermed
125 mL (1/2 cup) fresh basil, packed
250 mL (1 cup) baby spinach, packed
45 mL (3 tbsp.) grated Parmesan cheese
30 mL (2 tbsp.) olive oil
Salt and freshly ground pepper
125 mL (1/2 cup) boiling water
Lemon wedges
Preparation
Preheat oven to 450°F (230°C).
Spread roasting vegetable mixture on a baking sheet covered with a baking mat or parchment paper.
Bake for 15 to 20 minutes.
Place pumpkin seeds in a small baking dish and roast for 5 to 7 minutes.
Remove from oven and let cool.
Divide ricotta cheese between 2 ovenproof soup plates. Place in oven for 5 minutes.
In a food processor or small blender, grind half of the cooled pumpkin seeds with the garlic, basil, 250 mL (1 cup) baby spinach, Parmesan cheese, olive oil and salt and ground pepper generously.
Turn on the machine to obtain a homogeneous texture and gradually add the boiling water.
Add 250 mL (1 cup) of baby spinach to each plate, top with roasted vegetables, drizzle with pesto and serve with lemon wedges.
Recipe ideas using this product