The recipes we love
Pork Chow Mein with Chinese Five Spice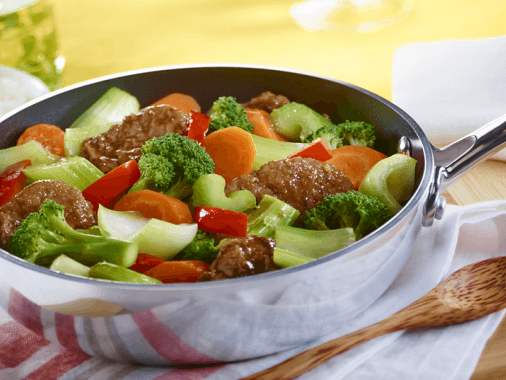 Pork Chow Mein with Chinese Five Spice
Preparation Time
Cooking Time
Ingredients
3 tbsp (45 ml) corn starch
1 tsp (5 ml) Chinese five spice
1 lb (450 g) pork tenderloin, cut into strips
2 tbsp (30 ml) canola oil
½ tsp (2 ml) red pepper flakes
2 cloves garlic, finely chopped
1 tbsp (15 ml) fresh ginger, finely chopped
¼ c (60 ml) oyster sauce
Preparation
In a bowl, stir together corn starch and Chinese five spice.
Add pork strips and mix to coat.
In a large frying pan or wok, heat oil on high heat and add pork strips in small quantities. Set aside when pork is nicely browned and continue with remaining pork (in batches of 2 or 3 at a time). Once all cooked, put all the pork back into the pan and continue to cook for another 2 minutes.
Add hot pepper flakes, garlic and ginger. Cook for another 2 minutes.
Put half of the bag of vegetables into the pan and stir-fry vegetables with the pork for 3 or 4 minutes. Add remaining vegetables and continue to stir-fry for 5 minutes.
Add oyster sauce and bring to a boil. Stir to evenly coat the meat and vegetables.
Serve.
Nutrition Facts (per serving):
Calories: 305
Protein: 28 g
Fat: 11 g
Carbohydrate: 24 g
Fibre: 5 g
Sodium: 585 mg
Recipe ideas using this product