The recipes we love
Orzo & Veggie Gratin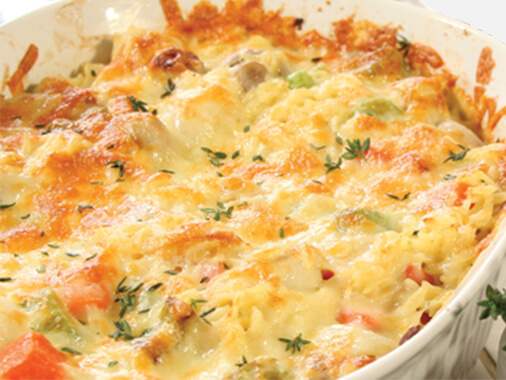 Orzo & Veggie Gratin
Preparation Time
Cooking Time
Ingredients
1/2 bag (375g) Arctic Gardens Slow Cooker Vegetables
1 clove garlic, shoots removed and coarsely chopped
1 bag (300 g/10 oz.) orzo pasta
500ml (2 cups) 35% cream
15ml (1 tbsp.) butter
10 chive stems, chopped
salt and freshly ground pepper
5 sprigs thyme, leaves removed
500ml (2 cups) grated cheddar
Preparation
Preheat oven to 400°F (200°C).
Roast vegetables with butter in a skillet for 5 minutes. Add thyme, garlic, and chives. Season and set aside.
Cook orzo in a pot of boiling, salted water for 3 minutes and drain.
Mix orzo and vegetables in an ovenproof dish.
Add cream, stir, and cover with cheese.
Place in the oven and cook for 20 minutes.
Serve family-style in center of table.
Nutrition Facts (per serving):
Calories: 1000
Protein: 30 g
Fat: 68 g
Carbohydrate: 70 g
Fibre: 6 g
Sodium: 487 mg
Recipe ideas using this product