The recipes we love
Mediterranean pie with peppers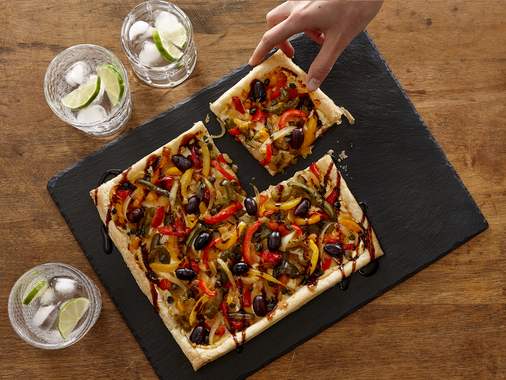 Mediterranean pie with peppers
Preparation Time
Cooking Time
Ingredients
15 ml (1 c. à soupe) huile d'olive
1 sac mélange de légumes Fajitas Arctic Gardens
225 g (8 oz) pâte feuilletée du commerce déjà abaissée, froide
environ 120 g (4 oz) fromage de chèvre non affiné, à température ambiante
80 ml (1/3 tasse) olives kalamata
15 ml (1 c. à soupe) câpres
Poivre du moulin
Au goût, réduction de vinaigre balsamique
Preparation
In a pan, heat oil to medium high and sauté the vegetables 3 to 4 minutes. Remove from heat and let cool.
Preheat the oven to 375 oF (190 oC).
Unroll the puff pastry and put on baking sheet lined with parchment paper.
Top with goat cheese, followed by vegetables, olives and capers. Sprinkle pepper generously.
Bake for 25 minutes until the pastry is puffed and golden.
Serve hot or cold topped with balsamic vinegar reduction.
Nutrition Facts (per serving) :
Calories: 300
Protein: 7 g
Fat: 22 g
Carbohydrate: 20 g
Fibre: 2 g
Sodium: 278 mg
Recipe ideas using this product