The recipes we love
Ginger Chicken Stir-Fry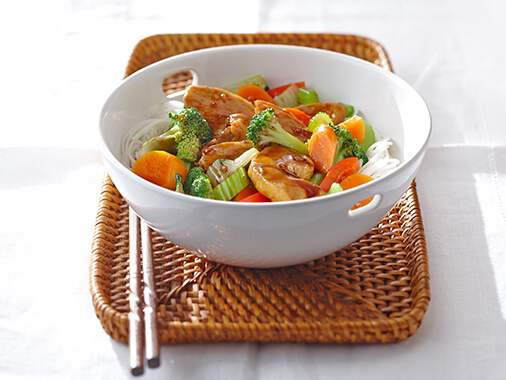 Ginger Chicken Stir-Fry
Preparation Time
Cooking Time
Ingredients
1/2 bag (375g) of Arctic Gardens Chinese style vegetables
1/2 cup teriyaki sauce
3 tbsp cornstarch
1 garlic clove, minced
1 tsp grated fresh ginger
3 skinless, boneless chicken breasts
1 tbsp vegetable oil
1 cup chicken broth
Preparation
WHISK teriyaki with cornstarch in a medium bowl until dissolved. Add garlic and ginger. Set aside.
SLICE chicken into thin, bite-size strips. Reserve.
HEAT oil in a large frying pan or wok over medium-high heat. Add chicken and stir-fry until no longer pink, about 4 min. Spoon chicken onto a plate and reserve.
RETURN pan to heat. Add Arctic Gardens Stir Fry Chinese style frozen vegetables and cook according to package directions until tender-crisp, 6 to 7 min. Add teriyaki mixture and broth. Bring to a boil, stirring constantly until mixture is smooth, about 1 min. Add chicken and stir until heated through.
SERVE over noodles or rice.
Nutrition Facts (per serving):
Calories: 285
Protein: 34 g
Fat: 6 g
Carbohydrate: 22 g
Fibre: 2 g
Sodium: 851 mg
Recipe ideas using this product