The recipes we love
French onion soup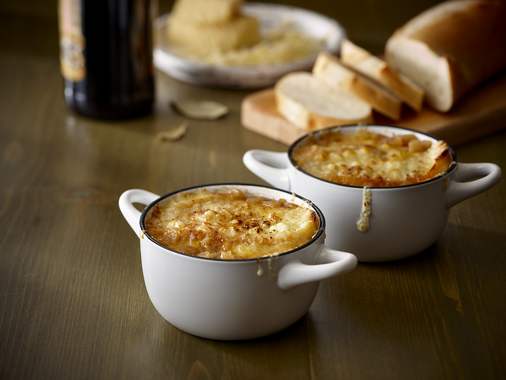 French onion soup
Preparation Time
Cooking Time
Ingredients
2 tbsp (30 ml) butter
1 bag 350 g Arctic Gardens diced onions
1/2 c (125 ml) dark beer
1 l (4 c) beef broth
1 bay leaves
1 pinch nutmeg
Salt and freshly ground pepper
4 slices French bread
1/3 c (330 ml) Swiss cheese, grated
Preparation
In a pan, melt butter over medium high heat and sauté onions 10 to 15 minutes or until light brown.
Add beer and reduce for 2 minutes.
Add broth, bay leaf and nutmeg.
Bring to a boil and simmer for 15 minutes on medium low.
Remove bay leaf and season to taste.
Preheat the broiler.
Fill the onion soup bowls, place a slice of bread onto each and garnish with cheese.
Melt cheese under broiler and serve immediately.
Nutrition Facts (per serving) :
Calories: 275
Protein: 15 g
Fat: 9 g
Carbohydrate: 29 g
Fibre: 4 g
Sodium: 819 mg