The recipes we love
Green Bean and Mushroom Risotto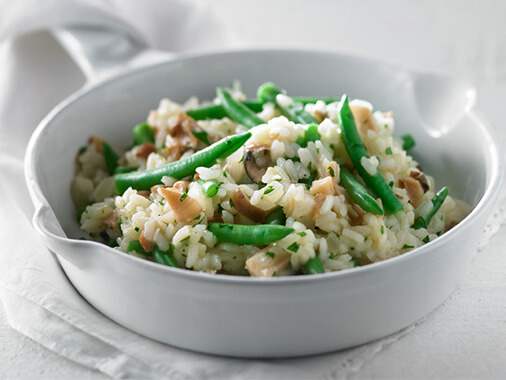 Green Bean and Mushroom Risotto
Preparation Time
Cooking Time
Ingredients
1/3 bag (250g) Arctic Gardens Extra Fine Whole Green Beans
1 pkg dried (14 g) portabello mushrooms
1 cup (250 mL) hot vegetable stock
2 tbsp (30 mL) butter
1 onion, finely chopped (about 1/2 cup)
1 clove garlic, minced
1 tsp (5 mL) dried thyme
1/4 tsp (1 mL) salt
1/4 tsp (1 mL) pepper
1 cup (250 mL) arborio rice or short grain Italian rice
1/3 cup (75 mL) vegetable stock or white wine
1/4 cup (50 mL) grated Parmesan cheese
2 tbsp (30 mL) chopped fresh parsley, or 1 tsp (5 mL) dried parsley
Preparation
In bowl, soak mushrooms in 2 cups (500 mL) boiling water until softened, about 5 minutes. Remove with slotted spoon; chop and set aside. Strain soaking liquid into measuring cup; add stock and enough water to make 3 cups (750 mL). Set aside.
In large shallow saucepan, melt 1 tbsp (15 mL) of the butter over medium heat; fry mushrooms, onion, garlic, thyme, salt and pepper, stirring occasionally, until onion is softened, about 5 minutes.
Add rice, stirring to coat. Add 1/3 cup vegetable stock; cook, stirring constantly, until no liquid remains. Add 1-1/2 cups (375 mL) of the stock mixture, 1/2 cup (125 mL) at a time and stirring after each addition, until completely absorbed, about 10 minutes.
Meanwhile, cook Arctic Gardens green beans in microwave at high for 1 minute, stirring once. Pat dry and cut into 1/4-inch (5 mm) pieces; add to rice mixture. Add remaining stock mixture. Stir in cheese, parsley and remaining butter.
Nutrition Facts (per serving):
Calories: 335
Protein: 9 g
Fat: 9 g
Carbohydrate: 49 g
Fibre: 3 g
Sodium: 359 mg
Recipe ideas using this product