The recipes we love
Extra Fine Green Bean and Lentil Salad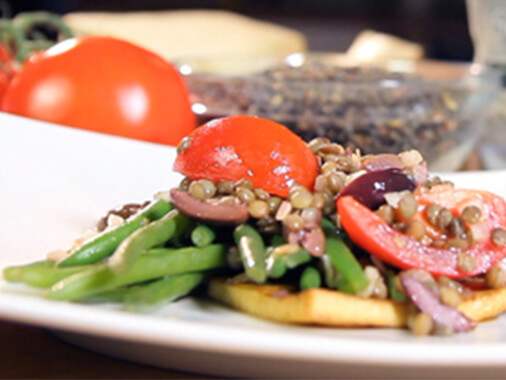 Extra Fine Green Bean and Lentil Salad
Preparation Time
Cooking Time
Ingredients
½ bag (750g) Arctic Gardens Extra Fine Whole Green Beans
2 tomatoes, quartered
½ shallot, minced
300g (10 oz.) firm tofu, chopped
salt and fresh-ground pepper
30ml (2 tbsp.) sherry or apple cider vinegar
60ml (¼ cup) olive oil
250ml (1 cup) cooked Dupuy lentils
20 Kalamata olives, pitted and quartered
Preparation
Thaw beans for 2 minutes in a pot of salted boiling water.
Drain beans and submerge in a bowl of ice water until cold.
Drain beans and dry over paper towel.
In a bowl, slowly whisk olive oil into vinegar to make a vinaigrette.
In another bowl, combine tomatoes, olives, shallot, beans, and lentils. Season with salt and pepper to taste.
In a pan over medium-high heat, sear tofu for 2 to 3 minutes on each side in olive oil. Deglaze with a splash of vinegar and season with salt and pepper to taste.
Arrange a scoop of tofu on each plate and top with salad.
Nutrition Facts (per serving):
Calories: 330
Protein: 16 g
Fat: 20 g
Carbohydrate: 26 g
Fibre: 7 g
Sodium: 240 mg
Recipe ideas using this product