The recipes we love
Eggs ranchero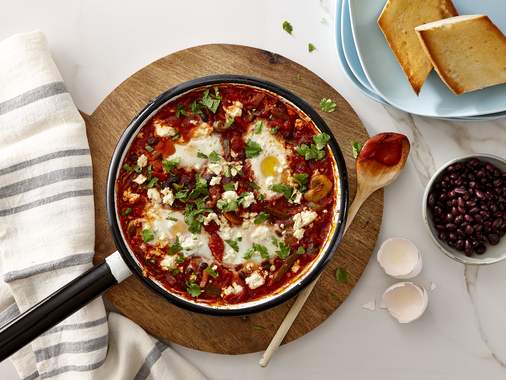 Eggs ranchero
Preparation Time
Cooking Time
Ingredients
1 tbsp (15 ml) canola oil
1 can 14 oz (398 ml) tomato sauce
1 can 14 oz (398 ml) diced tomatoes
1 can 14 oz (398 ml) black beans
1/4 tsp (1 ml) ground cumin
1/4 tsp (1 ml) chili powder
Salt and ground pepper
4 eggs
1/3 c (80 ml) feta, crumbled
1/3 c (80 ml) cilantro or parsley, freshly chopped
Preparation
In a large, deep pan on medium high, heat the oil and brown the vegetables for 5 minutes.
Add tomato sauce, diced tomatoes, beans and spices. Lower the temperature to medium and simmer for 5 minutes. Season to taste.
Preheat the oven to 425 oF (210 oC).
With the back of a large spoon or ladle, create a nest in the sauce. Crack an egg and gently slide it into the hot tomato sauce. Repeat for the remaining eggs.
Sprinkle with feta and bake in the oven for 5 to 7 minutes or until eggs are cooked to desired doneness.
Nutrition Facts (per serving) :
Calories: 305
Protein: 18 g
Fat: 12 g
Carbohydrate: 35 g
Fibre: 10 g
Sodium: 803 mg
Recipe ideas using this product