Couscous with roasted vegetables and chickpeas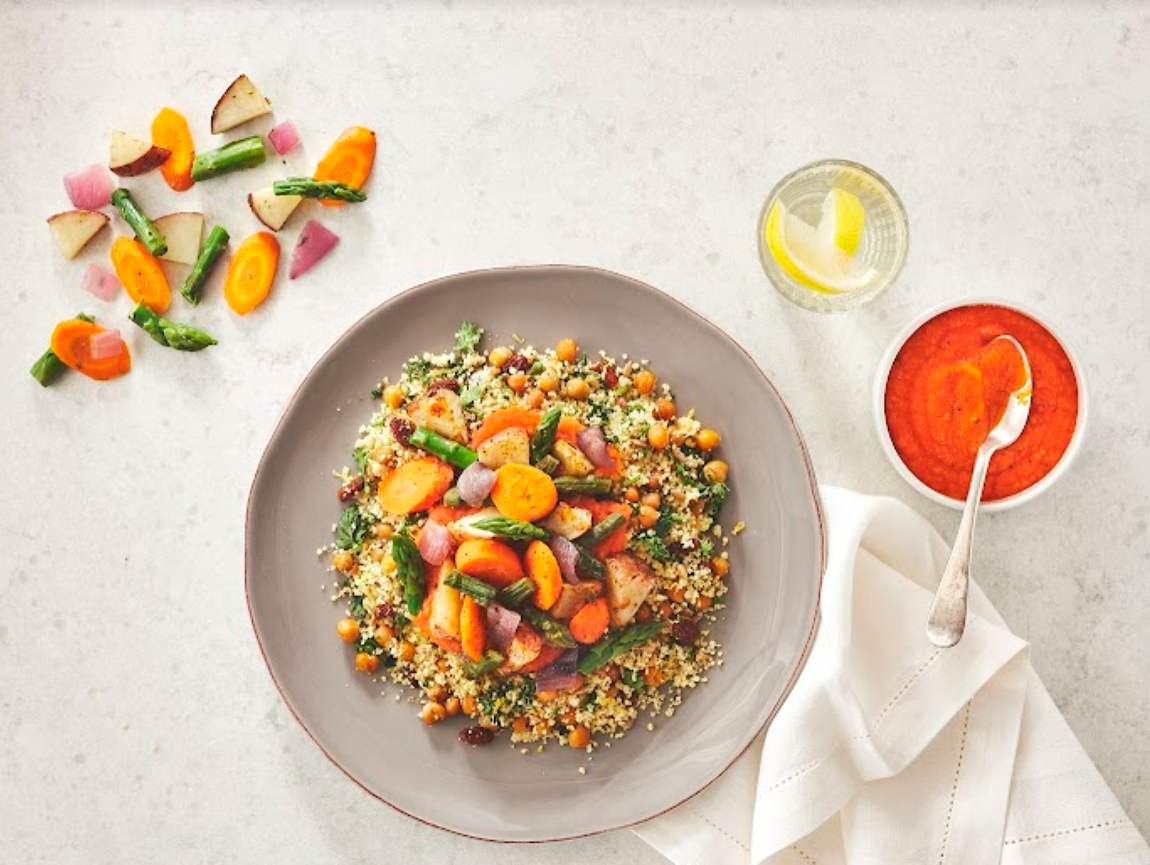 Ingredients
1 bag roasting vegetable mix
1 - 14 oz (398 mL) can chickpeas, rinsed and drained
1 large red bell pepper, cut in 4 and seeded
1 large apple, cut in 4
15 mL (1 tbsp.) olive oil
Salt and freshly ground pepper
60 mL (1/4 cup) sunflower seeds
250 mL (1 cup) vegetable stock
2 mL (1/2 tsp.) ground cumin
30 mL (2 tablespoons) raisins
250 mL (1 cup) medium couscous
15 mL (1 tablespoon) hemp seeds
10 mL (2 tsp.) harissa
125 mL (1/2 cup) coarsely chopped fresh parsley
2 mL (1/2 teaspoon) grated lemon zest
Preparation
Preheat oven to 450°F (230°C).
Spread roasting vegetable mixture on half of a baking sheet lined with a baking mat or parchment paper.
Add chickpeas, bell pepper and apple pieces to the other half.
Drizzle chickpeas with olive oil, season with salt and pepper and bake for 15 to 20 minutes.
Put the sunflower seeds in a ramekin or small ovenproof dish and roast in the oven for 5 to 7 minutes.
In a saucepan, bring the broth to a boil with the cumin and raisins.
Remove from heat. Add couscous and hemp seeds. Cover and let stand for 5 minutes.
Remove the baking sheet from the oven, in a blender or with a blender foot, grind the apples with the peppers and harissa to obtain a coulis. If necessary, add water and season to taste.
Stir the couscous with a fork and add the chickpeas, sunflower seeds, parsley and lemon zest.
Divide the couscous among 4 plates, pour the bell pepper sauce over it and garnish with the roasted vegetables.
Recipe ideas using this product