The recipes we love
Chinese sesame beef and macaroni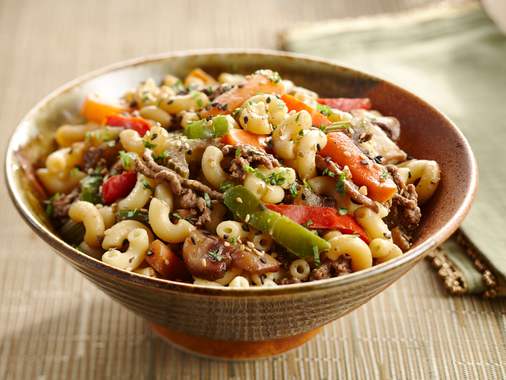 Chinese sesame beef and macaroni
Preparation Time
Cooking Time
Ingredients
2/3 lb (300 g) macaroni, uncooked
1 lb (450 g) lean ground beef
1 tbsp (15 ml) toasted sesame oil
2 cloves garlic, minced
1 tbsp (15 ml) freshly chopped ginger
1 bag Arctic Gardens vegetables for Chinese-style macaroni
1/3 cup (80 ml) soya sauce
2 tbsp (30 ml) toasted or black sesame seeds
3 tbsp (45 ml) freshly chopped regular or Thai basic
Preparation
In a large pot, bring a large quantity of salted water to a boil. Add macaroni and cook according to package instructions.
Drain and set aside.
In the meantime, in a large pan or wok heated to medium, brown ground beef.
Add sesame oil, garlic and ginger. Cook for 1 minute.
Add the vegetables gradually so as not to cool the pan too much and sauté for 5 minutes.
Add soya sauce and bring to a boil.
Add drained macaroni, sesame seeds and basil. Sauté for a minute and serve.
Nutrition Facts (per serving):
Calories: 350
Protein: 21 g
Fat: 10 g
Carbohydrate: 44 g
Fibre: 3 g
Sodium: 530 mg
Recipe ideas using this product