The recipes we love
Caribbean slowcooker pork stew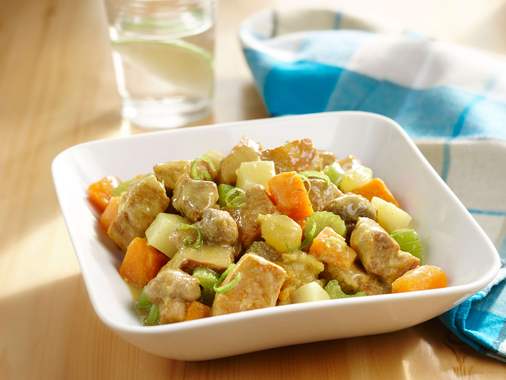 Caribbean slowcooker pork stew
Preparation Time
Cooking Time
Ingredients
Spice mixture for stew:
1 tsp (5 ml) ground cumin
1 tsp (5 ml) turmeric
1 tsp (5 ml) ground cinnamon
½ tsp (2 ml) dry mustard
½ tsp (2 ml) hot pepper flakes
1 star anise
2 cloves
4 green cardamom pods
1 pinch saffron
Salt and ground pepper
2 tbsp (30 ml) canola oil
2 lbs (900 g) pork stew cubes
1 bag Arctic Gardens vegetables for slowcooker
4 cloves garlic, roughly chopped
3 tbsp (45 ml) lime juice
1 can coconut milk, 14 oz (398 ml)
2 tsp (10 ml) lime zest
Preparation
In a bowl, mix together spices and set aside.
In a large pot, heat half of the olive at high heat and brown the cubes of pork in small batches and put them in the slowcooker.
In the same pan, heat remaining oil and sauté vegetables to thaw with garlic and add to the meat in the slowcooker.
Deglaze the pan with the lime juice and add coconut milk and lime zest. Bring to a boil and pour into the slowcooker.
Add spice mixture, stir and cover.
Set the slowcooker to high and cook for 4 to 5 hours or to low and cook for 7 to 8 hours.
Stir, correct the seasoning and remove the spices (star anise, clove and cardamom pods) before serving.
Nutrition Facts (per serving):
Calories: 400
Protein: 36g
Fat: 23 g
Carbohydrate: 14 g
Fibre: 4g
Sodium: 135 mg
Recipe ideas using this product